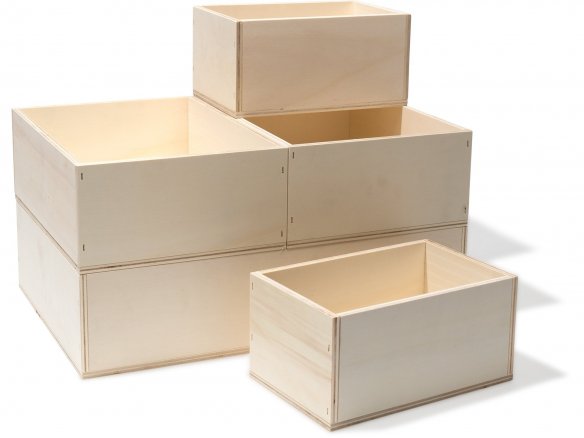 reliable presentation system from our retail outlet
durable and stackable
pure, untreated poplar plywood
Material

poplar plywood

Strength

10 mm

Binding

stapled

Dimensions

height 142 mm, basic dimensions are diverse
After looking around for a long time for a straightforward and universal presentation system for our comprehensive promotion assortment in the Berlin store, we finally decided to just make a basic "system" of our own. We took lightweight poplar plywood and had our workshop make it into a sturdy system of boxes that provide our very differentiated products with a neutral presentation space.
In view of the constant requests by our customers, we decided to add the boxes themselves to our assortment!
The boxes can be used as pedestals or columns, they can be held together with foldback clips, stapled to form towers, beautified with stains or lacquers, decorated by gluing on different interesting materials from the rest of our assortment, etc., etc., etc.
The boxes are available in three coordinated sizes. They are all 142 mmm high but have different sized bases measuring 187 x 285 mm, 285 x 375 mm and 375 x 570 mm.
Modulor box, poplar plywood
3 Variants
187 x 285
285 x 375
375 x 570
Accessories and Related Products