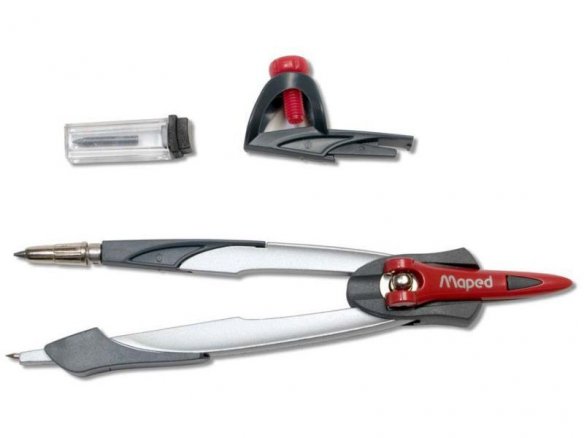 max. circle radius app. 140 mm, plastic grip with metal fixing clip, metal legs with plastic inserts, protective cap that presses over the spike, universal plastic holder with set screw (ø min. app. 3 mm, max. app. 11 mm), container for leads, includes one replacement lead ((ø 2 mm), comes in plastic box
Maped, which is a company from Annecy in the French Alps, has been producing compasses for 60 years. In designing this model they came up with a nice new idea. A metal lever whose different colour sets it off from the rest of the compass can be opened up and, after setting the desired radius, closed back up again so that the legs are locked in place in that position. This is really easy to do – even easy enough for kids six years and older.
The pencil point can be easily pulled out of the leg and replaced with the universal holder (sleeve) for pens. In this way, coloured pens or felt-tip pens can be quickly and easily put in place for your drawing and graphic work. The protective cap for covering the spike is also very practical because it allows you to put your compass in your briefcase together with your pens without worrying about the danger of punctures.
This device can be transformed into an inexpensive CIRCLE CUTTER for basic uses like cutting circles out of paper or thin cardboard by employing our CUTTING BLADE FOR COMPASS. The mobility of the spindle (between the legs) can be adjusted by tightening or loosening the setscrew in the plastic grip with an Allen key (SW 2 mm).
Maped compass w. pen holder + leg blocking system, 3-piece (compass, pen holder, replacement lead)