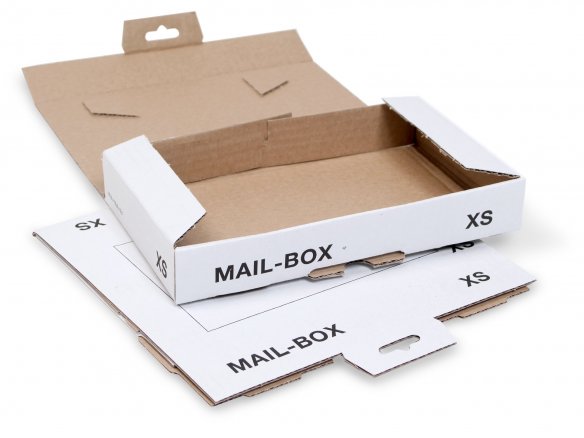 material

made of fine corrugated board (B-flute)

given dimensions:

approx. outer measurements (l x w x h)
On the one hand for sorting and storing and on the other for mailing parcels, these boxes with tuck-in sealing on the front flap are resealable, versatile, sturdy and reusable.
The size designations of these mailing boxes (XS, S, etc.) are based on the sizes from the Post Office but the measurements of the boxes are not identical to those.
The inner measurements and weight of the boxes (approximate measurements: length x width x height) are as follows:
XS - 244 x 145 x 38 mm 60 g
S - 249 x 175 x 79 mm 100 g
M - 331 x 241 x 104 mm 168 g
L - 395 x 248 x 141 mm 239 g
XL - 460 x 333 x 174 mm 365 g
Because the Post Office is always changing the maximum size and the limiting factors for mailing, we would like to point you to this hopefully current webpage from the German Post: www.deutschepost.de. Similar webpages for other countries are easily found in the Internet.
Mailbox shipping cartons, white
5 Variants
37 mm × 156 mm × 250 mm
85 mm × 185 mm × 255 mm
110 mm × 250 mm × 332 mm
145 mm × 145 mm × 400 mm
180 mm × 345 mm × 460 mm