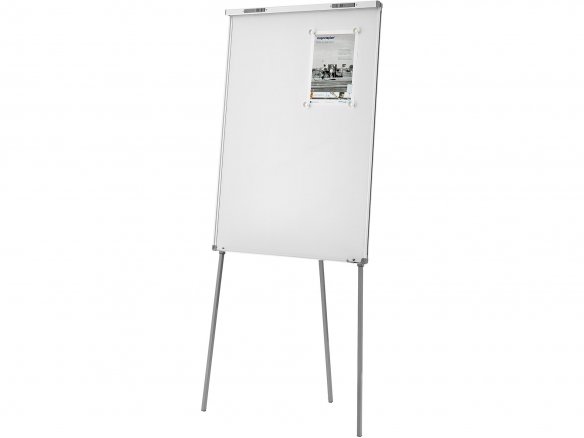 painted (white), magnetically adhesive metal surface, integrated marker storage area, tripod stand, total height (means the maximum height) is 1850 mm, stand area is ca. 950 x 735 mm, frame colour is silver; given dimensions: size of the writing area (w x h)
In the case of the Magnetoplan Junior SP flipchart, the name says it all! Its construction is completely determined by functionality and it provides exactly that and nothing more! If you are looking for an inexpensive flipchart that does not need to be transported or moved around very often, the Junior SP Magnetoplan is just what you need.
At the top of the writing area there is a quick-change clamping system which can hold all conventional FLIPCHART PADS. The advantage of the design of the Magnetoplan in comparison to other flipcharts that have tripod bases is that its height can be adjusted: on both sides of the writing area there are screw fasteners that can be opened so as to allow the area to be raised and lowered as required. The storage area for your FLIPCHART MARKERS is hinged so that it is easy to open and close and doesn't get in the way during transport. The flipchart comes assembled so that it can be used right out of the box.
Two important tips: It is important to thoroughly clean the writing area before using it for the first time. For that job, it is best to use a CLEANER SPRAY designed for use on whiteboards because varnished writing areas are particularly sensitive to unsuitable cleaning solutions. It is advisable to perform this cleaning on a regular basis because any foreign matter will thereby be removed and, in addition, the natural wearing process whereby a general haziness develops will be avoided.
magnetoplan Junior SP flipchart, 700 x 1000 mm, silver
Accessories and Related Products