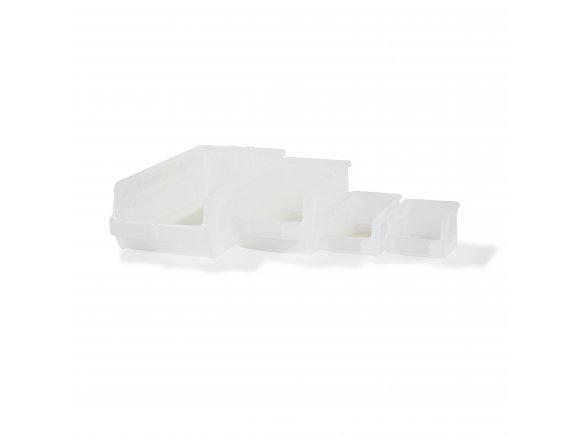 material

polypropylene

bottom

sanded

equipment

insert pockets for labels in handle (delivered with blank label)
When furnishing our shop in Berlin we went looking for storage bins to suit our needs. We could find red or blue or yellow ones everywhere but finding transparent ones of the quality of these Interbin boxes required a lot of patience. The lack of any colour (in this case the slightly milky colour that is typical for polypropylene) and the transparency were important to us because that way these storage bins and sorting boxes don't just look like tool boxes in some hobbyists workroom but instead are clean looking and just plain better.
A further requirement was sturdiness and god knows these bins are that! They are not made with brittle polystyrene but rather out of more flexible and robust thick-walled polypropylene. They are reinforced at the right places with the result that they are very resistant to torsion forces and will withstand falling to the ground. All the corners and edges of the bins are rounded, which on the one hand gives the bins a polished appearance while on the other serves to make them safer when being handled.
The back of the bins has a universal hook-over back running the whole width; this allows them to be hung on a one to three millimetre thick edge or on a louvred panel. But the bins do not have to be hung; they can also be stacked on shelves or in a closet or simply places on a desk.
Interbin storage bin, transparent
4 Variants
76 mm x 105 mm x 133 mm
76 mm x 105 mm x 180 mm
130 mm x 150 mm x 253 mm
130 mm x 205 mm x 370 mm
Accessories and Related Products