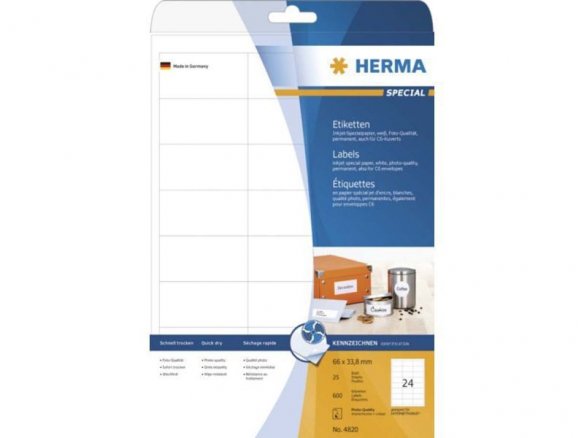 A4 sheets with many labels per sheet (given quantities: number of labels per sheet/sheets per package); white ink-jet paper with matte coating, 90 g/m², chlorine-free bleached, for all ink-jet printers (full colour photo quality), solvent-free glueing coat, resealable climatic package
Herma has on offer under the name Inkprint Photo-Quality paper labels which, by means of a special coating, are especially suited for ink-jet printers. The coating provides ultra-sharp outline printing and brilliant colours on all commercial machines. The DIN A4 size labels can therefore also be used to make self-adhesive photographs. We only carry the most popular sizes of these labels in stock but, here too, we want to make clear that we will order any other type label from the Herma product range for you on short notice. Just contact us or visiting the Herma company at its website under www.herma.de.
The CD "Maxi" labels cover the entire CD and therefore have a particularly large writing field. Herma CD labels have an alignment aid that works with the Herma CD labeller 8617. This accessory makes it possible to fit the labels exactly with the help of the jewel case. CD cover labels and passport photo labels can be used both attached with the glue or unglued.
Herma Inkprint Photo-Quality labels, 96.5 x 42.3 25 sheets, 300 pieces (4823)