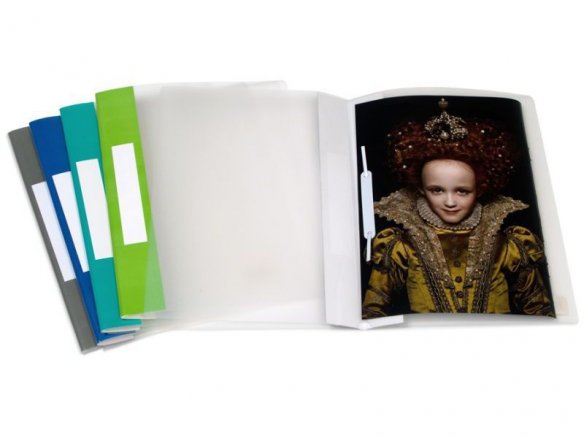 polypropylene (archival safe), front and back are translucent (see Information!), two-sided welded spine pocket for inserting the coloured paper labelling strip, standard clip fastener, plastic covered metal adjustment band, plastic cover rail (fastener), capacity: 250 sheets of 80 g paper
This very nice looking flat file is made out of translucent plastic film with a grainy surface. If there is direct contact between the plastic sheet and the object that is filed in it, it will appear very clearly which means that lettering will also be very legible.
Flat files made of polypropylene have the advantage over ones made out of PVC in that they are much more robust because PP is simply a much tougher plastic, one that better resists tearing while also being more resistant to scratching. Because these folders are not only made from PP film but a PP film that is even stronger than that used on normal folders, they will protect their contents even better and, in addition, will hold their good looks for a longer time.
The transparent pocket where the labelling strip is to be inserted is considerably wider than is usually the case. It starts on the back of the folder and goes seamlessly around to the front. The labelling pocket is 318 mm high and, in total, 87 mm wide of which about 43 mm is found on the rear and front of the folder, respectively. The coloured paper labelling strip has a white area for lettering on both the front and back of the folder – it is 140 mm long and 25 mm wide.
The whole strip can of course be removed in order to replace it with a paper of your choice. This is particularly advantageous when more space is required for your labelling. Even if you like the idea of all your folders having the same look, there are times when putting something different or unusual in the large labelling pocket will be a welcome possibility.
FolderSys PP folder, translucent
4 Variants