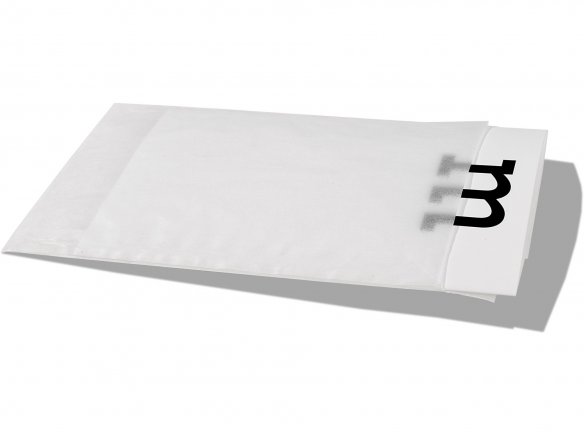 material

bleached glassine paper, 40 g/m²

equipment

two seam bag (glued on the long sides), comes with non-gummed flap
If you want there to be some inkling of what is in your bag, this type of translucent bag made of glassine paper is the perfect choice. It is great for holding things like stamps, photographs or small gifts. But this bag is particularly good for the long-term archiving of photographs and negatives because glassine paper is made with cellulose that is pH neutral, chlorine-free, acid-free as well as anti-static and free from plasticizers.
Our GLASSINE PAPER MAILERS and GLASSINE PAPER ENVELOPES are better suited for sending out advertizing or mailings because they are made of thicker paper and have flaps with moisture activated adhesive. On the other hand, however, these glassine flat bags have a non-gummed flap that can be sealed in a decorative way with, for example, transparent adhesive dots (ONE-SIDED ADHESIVE DOT, PVC FILM).
By the way, glassine paper is suitable for recycling as well as compostable.
Flat bag glassine paper, translucent, colourless
10 Variants
63 mm x 93 mm
95 mm x 132 mm