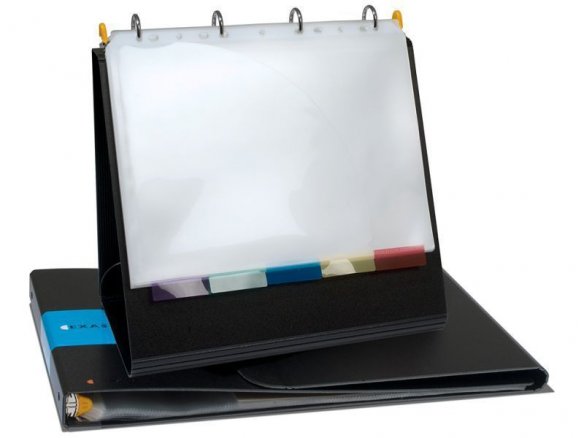 black polypropylene cover with subtle linear grooves, tuck-in flap fastener, one pocket each for CDs and business cards on the inside cover, multi-ring (4 rings with 30 mm diameter) with closing mechanism, includes index (5 insert tabs), 25 sheet-protectors and pre-printed labels, capacity is about 60 sheet-protectors, given dimensions: outer dimensions w x h
Whoever was responsible for choosing the material for making this easel binder made the right decision: two millimetre thick PP! - with the result that the corners and edges are very tough, the surface repels dirt and dust, the grooved hinges are very durable and the whole portfolio is generally very sturdy and robust. The ring mechanism is solid and is easily opened and closed by means of the integrated closing mechanism. When you fold the front and back covers (not the large flap) backwards, the two pieces can be easily joined at the flap by means of a tuck-in fastener and suddenly your practical portfolio has become an easel binder.
The sheet-protectors that are included are smooth, not grainy. The film is comparatively thick and will not bend and crease at first handling, as is the case with cheaper versions – generally just good quality. The fact that the sheet-protectors have to be canted off at the end where the filing strips are in order to be free of the lifting mechanism for opening and closing the rings is somewhat bothersome. This means that, when needed, you must either buy original sheet-protectors or simply accept the fact that standard sheathes will be in the way of the mechanism (or get your scissors out!). In addition, please note: there are no sheet-protectors in the A3 size available.
Exacompta Easel binder, Exashow, 295 x 320 for A4 (portrait), 4 rings