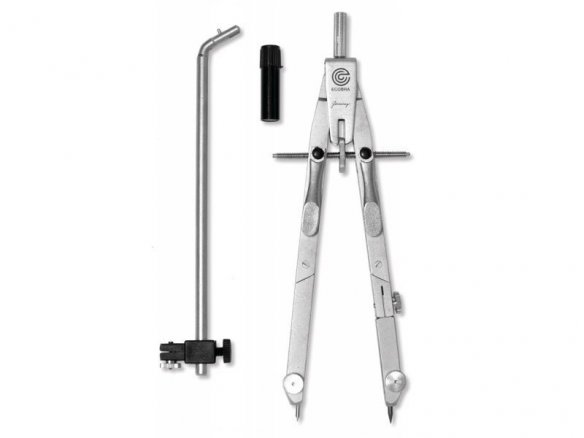 compass (all-metal brass construction, pressure lever mechanism with automatic locking of the spindle, micro-adjustment through spindle centre-wheel, 2 knee joints, lead diameter is 4 mm, matte satin nickel-plated, includes box for leads, comes in transparent case); some versions come with extension bar (brass, matte nickel-plated, plastic, black); a universal adaptor for commercially available technical pens, pencils, ballpoint pens, fine liners, etc. (brass, matte nickel-plated, plastic, black)
The Speedmaster compass is a well-made device with a very good price-performance ratio (value for the money!). It is made completely out of metal and enables the user to adjust it very precisely without any missteps. The maximum possible diameter without the extension bar is 370 mm – with the bar that is extended to 610 mm. The Ecobra Speedmaster comes standard with 4 mm pencil lead – in order to be able to use technical pens, felt pens or mechanical pencils with this Ecobra compass a universal adaptor is required (available separately).
Ecobra Speedmaster quick-action compass
3 Variants
Note
This compass can be purchased with or without an extension bar. Please also note that the adaptor is not included with your purchase and must be ordered separately.