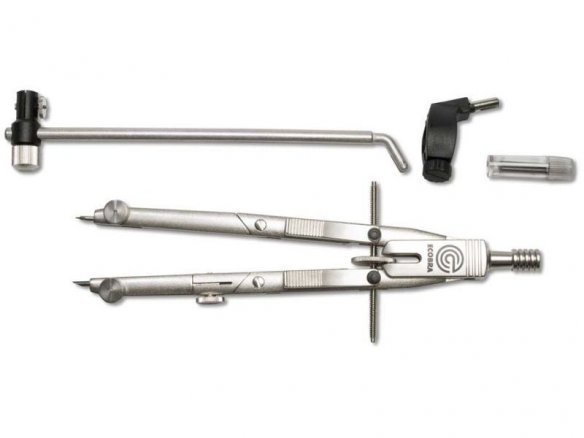 Material

zinc pressure die cast, center wheel and adjustment screw are brass

Version

nickel-plated, matte finish

Attributes

joints/pivots on both legs,, lever mechanism for quick setting

Radius

max. circle radius is ca. 180 mm (with extension: 310 mm)

Replacement leads

small container with 2 mm replacement leads

Universal holder

plastic (min. 4 mm , max. 11 mm) included in set of 4

Extension

included in set of 4
By employing the pressure lever mechanism with the automatic spindle locking function you can quickly, if roughly, preset this high quality metal compass. A more exact setting can be done with the center wheel and adjustment screw. In the process, radii up to 180 mm without the extension, and 310 mm with the extension can be formed. Knee-joints on both legs enable both points (tips) to be optimally set. All commercial pens, such as pencils, colour pencils. ballpoint pens, fineline mechanical pencils can be used by attaching a 4 mm diameter adaptor.
This device can be quickly turned into an inexpensive circle cutter for basic uses like cutting out paper or thin cardboard by mounting the CUTTING BLADE FOR COMPASS to it.