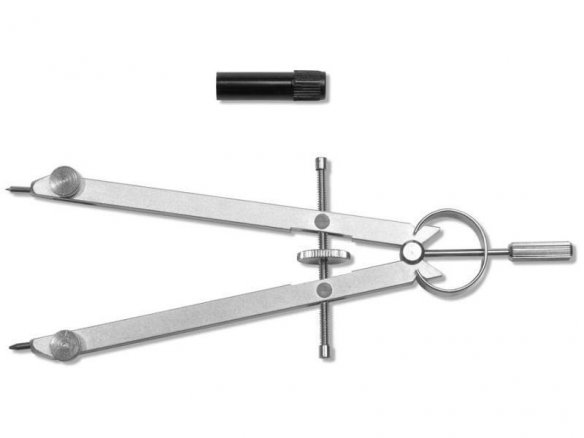 max. circle radius app. 150 mm, legs and grip are brass that is matte nickel-plated, middle adjustment screw and spindle are brass, lead container with replacement leads (ø 2 mm), comes in plastic box
Almost all the parts of the Ecobra geometry compass are made of metal – except for the threading of the spindle, which, by the way, is also plastic in much higher-priced compasses. This compass is free of play and can be precisely set; it is a nicely weighted device for more accomplished students and people who just want a good quality compass – a top mid-level compass, if you will. It does not have the quick setting lever that is found on, for instance, the HAFF QUICK-ACTION COMPASS. It also doesn't come with the accessories sometimes included with other compasses but which most of the time are unnecessary anyway. The upshot is: the Ecobra geometry compass concentrates on the essentials, is precise and will serve you, if handled appropriately (no attempts to stretch it out too far by bored or frustrated students) for your whole long life or whole life long.
This device can be transformed into an inexpensive CIRCLE CUTTER for basic uses like cutting circles out of paper or thin cardboard by employing our CUTTING BLADE FOR COMPASS.
Ecobra geometry compass, 2-piece (compass, replacement leads)