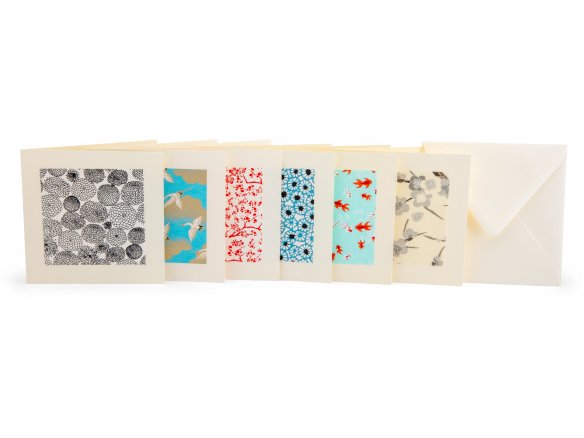 folding card, 118x 118 mm (given dimensions refer to the card when folded), made of yellowish white ca. 200 g Rivoli rag paper , semi-gloss, front side covered with coloured Japanese Chiyogami screen printing paper 85 x 85 mm, includes 125 x 125 mm envelope made of yellowish white ca. 120g Rivoli rag paper, comes in transparent protective sleeve
These square cards and envelopes are made from monochrome, smoot, matte Rivoli paper. The double card have an additional colourful patterned Japanese Chiyogami screen printed paper glued on their front side.
By the way: Chiyogami is translated as "paper of a thousand generations" and its origins go all the way back to the 17th century, a time when papermakers were just beginning to use wood stamps to apply patterns to paper - most of which were copies of kimono fabric patterns.
Chiyogami folded card
12 Variants