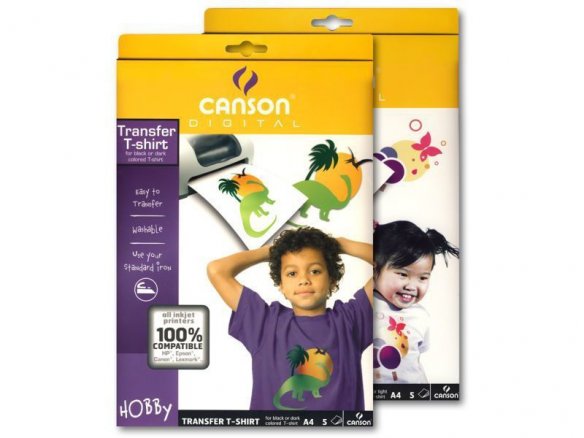 140 g/m², one side coated, for ink-jet printer (full colour prints with max. 1440 dpi), washed at temperatures up to 40 °C
T-shirt transfer film is a specially coated film used for transfer printing on cotton. In the process, the film is printed right side up (not mirror image) on the coated (rough) side with an ink-jet printer. The motif is subsequently cut out and ironed onto the cotton with a normal household iron. In order to facilitate the transfer of complicated motifs onto textiles the manufacturer recommends that you cut them out with a 5 mm border aroung them. Please note, however, that the (unprinted) border will be visible on the material as a glossy outline. Any textile that has a T-shirt transfer film applied to it can be washed at temperatures up to 40 °C.
Canson T-shirt ink-jet transfer film, f. dark col. fabrics, matte,210 x 297 A4, 5 shts.