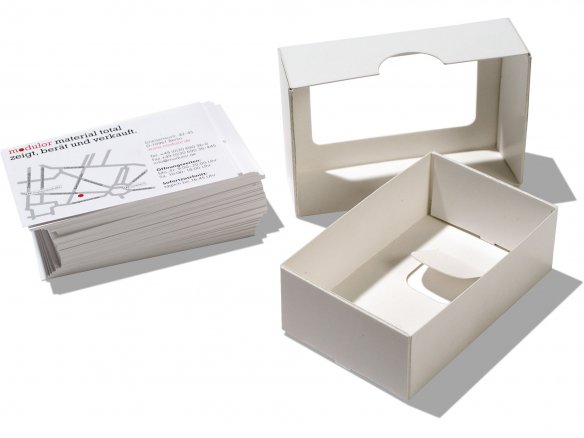 material

Korsnaes white 380 g/m² cardboard

equipment

two semi-circular finger grips in the top, box delivered flat

capacity

approx. 100 business cards (300 g/m²)

Dimensions

given dimensions = inner dimensions (h x w x l)
This agreeable little functional box is made out of matte white Korsnaes cardboard. This very high quality cardboard has a smooth surface and is very often used for packaging a range of products from pralines to flacons. When thus considered, the box is not only a neat but nonetheless reasonably priced container for calling cards but can also be used as a product or gift box. By gluing transparent or translucent Plastic Film over the 39 x 71 mm large cutout in the box top visually interesting effects can be achieved. The bottom of the box has a flap stamped out of it that allows you to push it in and thereby lift up the contents of the box for easy removal.
Business card box with cutout, untreated, white, 30 x 88 x 57 mm