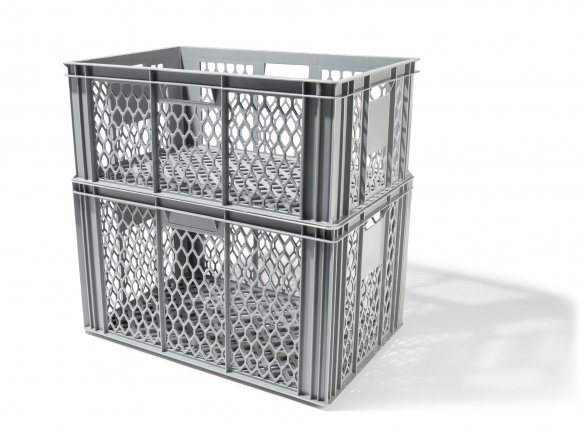 Box contents are visible from the outside thanks to the lattice structure
Suitable for food
Stable and stackable
Handle opening on each side
Material

HDPE (high-density polyethylene)

Special features

Temperature-resistant from -25°C to +70°C, dishwasher proof, food safe

Equipment

4 handle openings (one handle opening per side)

External dimensions

200 mm or 350 mm (height), 400 mm (width), 600 mm (length)

Stacking height

240 mm or 338 mm

Weight

1850 g or 2340 g

Volume

49 liters or 70 liters
Baker's boxes are used in the baking industry for safe and careful transport or storage of baked goods. Thanks to their perforated bottom and sides, they are ideal for keeping food (or products of any kind) air-permeable and easily recognizable at first sight.
The gray baker's crates are made of high-quality polyethylene and have a handle opening on each side for easy moving, lifting, and carrying.
In addition, they are easily stackable. Since the bottom of a crate disappears into the crate underneath when stacking, the so-called stacking height is approximately 10 mm less than the stated outer dimension. The capacity of the smaller crate is 49 liters, the larger crate is 70 liters.
Baker´s box, open-worked, grey, 350 x 400 x 600 mm (stack height 338 mm)