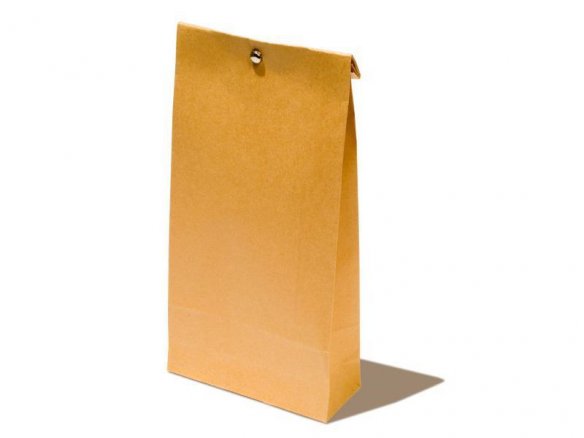 natron paper, 120 g/m², exterior side is smooth, block bottom bag (with side folds), glued on one side and at bottom, opening flap is grooved and has a hole, can be fastened with brass fasteners or split pins, given dimensions: width x height x depth (fold)
These paper bags with side folds and block bottoms are called Musterbeutel in German (bag for samples) because they are so often used for sending out samples of products or small parts or promotional materials. When closed up with BRASS FASTENERS these natron paper bags are able to withstand even the roughest handling by the post office. Such classically sleek bags, which are grooved at the fastening flap and have a hole for the fastener, are also considered attractive enough to be used as packaging for a gift; it can be decorated with drawings, paintings, or lettering in the process!
A block bottom bag, you might want to know, is one with folds on the sides (in contrast to a cross bottom bag) and a rectangular bottom which had been produced in earlier times by employing a "block" (hence the name!).
Bag for samples, natron paper, light brown
6 Variants