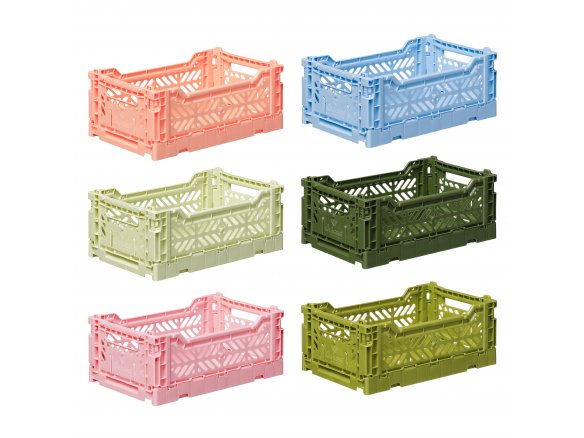 Organizer in a fresh design
Mini format for kitchen, bathroom, drawers
Stackable
Can be folded flat
Suitable for food
Weatherproof
Dishwasher safe
100% recyclable
Material

Polypropylene (PP)

Dimensions

27 x 17 x 11 cm (external dimensions l x w x h)

Capacity

4 l

Weight

180 g

Maximum load

2.5 kg

Cleaning

Dishwasher safe
You can't have enough stackable folding boxes at home, and Aykasa now offers practical organizers in fresh, modern colors that fit nicely into your apartment.
Made of food-safe and weatherproof polypropylene, you can create order with the Aykasa folding boxes in children's rooms, kitchens and garages, as well as in the car, when camping, and in the garden.
In mini format, the Aykasa folding boxes are perfect for baking ingredients in the kitchen cupboard, cosmetics, or cleaning agents in the bathroom; or for sorting and taming small items in drawers, in the trunk or in a tent or mobile home. Maybe the children even voluntarily put their toys in the colorful boxes that can be stacked into a tower.
If you want to easily access the contents of stacked boxes, you can open one of the short wall elements for an open side or click it out completely. The collapsible boxes made of recyclable polypropylene are very stable, last for many years and take up very little space when collapsed.
Aykasa folding box, mini
19 Variants