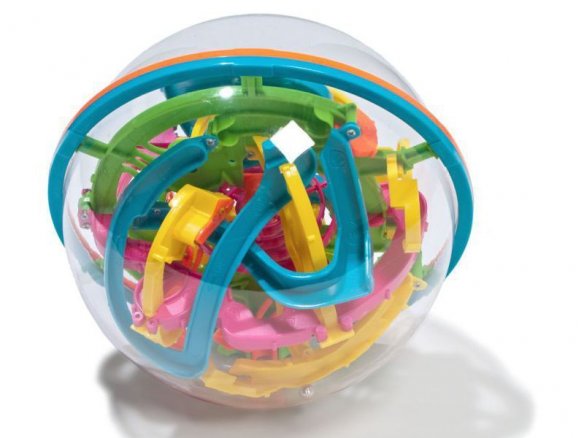 transparent plastic ball with coloured inner workings and silver game balls, maze 1 with 138 tricky stages to guide the ball through, diameter is 200 mm, comes on cardboard box
Addict-A-Ball is an agiltiy game for persons over 6 years old. The point of the game is to maneuver a small silver ball through 138 stages of a three-dimensional maze (made of a colourful slide track and hurdles) that ends at a bucket in the middle. There are two playing variations: either for one person or for a number of persons - in addition, there are three different starting points.
The fact that it is really hard to keep the ball on the track at the beginning and that you have to continually think "in circles" in order to pass through the maze in the given order (numbers and directional arrows on the track) makes the Addict-A-Ball really addicting indeed! - and good for hours and hours of fun.
Addict-A-Ball 3D maze puzzle, ø 200 mm, for six year olds and up!
Note
for children over 6 years old (and adults!)