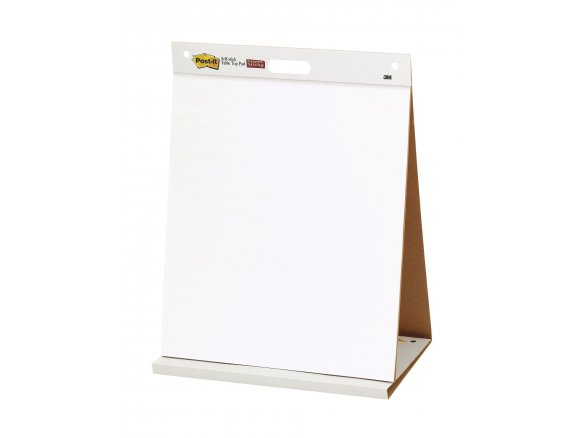 easel pad with micro-perforation and Post-it adhesive strips, white paper without lines, sticks to almost all wall surfaces, removable without residue, markers do not bleed through paper, portable by virtue of the corrugated board spine and a handle
With the introduction of the Post-it Meeting Charts, 3M has found a further practical use for their post-it sticking technology. The Table Top Chart can be easily set up by means of the simple collapsible mechanism and is especially suitable for use in conferences and meetings.
The charts can be thumbed through like pages of a normal easel binder or can be removed like post-it notes and applied to almost any surface. With little effort it is therefore possible to revisit all the charts that have already been used during your meeting in order to go over again any point that has become important again.
The charts are attached to a sturdy corrugated board which is equipped with a handle slot and which can be folded over the sheets so as to protect them during transport.
3M Post-it Meeting Charts, table top, 508 x 584 mm, 20 sheets (563 R)