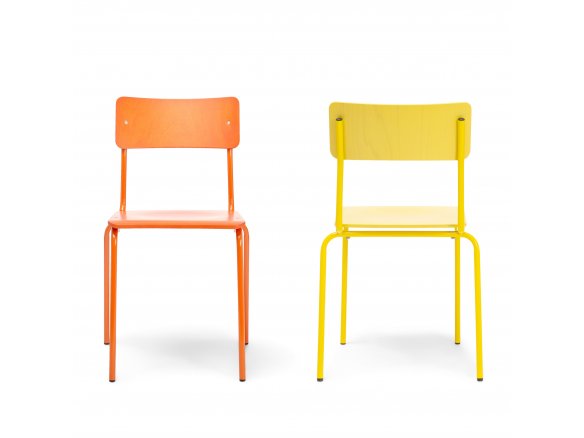 steel-tube frame with 4 legs; round tubes, ø 18, wall thickness 1.5 mm, glossy chrome-plated, with black PVC floor gliders; seat area made from beech laminated (10 x) shaped wood, th = 9 mm; backrest made from beech laminated (7 x) shaped wood, th = 8 mm, varnished with environmentally friendly (polyurethane) varnish; stackable: up to 6 chairs; weight: approximately 4 kg; given dimensions = total height/seat height x width x depth; conceptual design: Werksentwurf VEB Stima Stendal 1959/60, Manufacturer: L&C Stendal
Comeback is a classic stackable steel-tube chair, millions of which could be found in the DDR under the name "Modell 3101" – it was used for seating in large spaces, in restaurants, casinos, campus dining halls, canteens as well as for private furnishings. In those days, however, the seat and the backrest were made from pressboard covered with imitation leather and the steel tubes were painted. For a number of years L&C Stendal have been producing this time-tested model again but this time with technical improvements – all of which have contributed to the model's "Comeback". The inelaborate and functional appearance of the Comeback and the fact that it was made by the long-established steel tube manufacturing company L&C Stendal with its tradition of high quality and was being offered at a very attractive price led us to embrace the Comeback in our product line.
The furniture manufacturer L&C Stendal has a long tradition in Germany. In 1889, Louis Arnold, an iron dealer, and his son Carl founded the iron furniture factory L.&C. Arnold in Stendal which, beginning in 1926, specialized in the production of garden furniture and bed frames and developed into the leading steel tube manufacturer in Europe. The foldable garden chair No. 2 was an especially popular best seller, one that even today is considered a true classic among beer garden chairs. In 1927 L.&C. Arnold displayed at the Werkbund (Work Federation) Exhibition "The Domicile" in Stuttgart a "device" designed by Mart Stam and manufactured by Arnold: the first chair without hind legs (cantilever chair). A close relationship developed in those years between Stendal and the designers from the Bauhaus School with the result that many of those designs were produced by Stendal. After 1945, the factory in Stendal was called "VEB STIMA"; it manufactured chairs, tables and beds for the DDR market and for export. After Germany reunited, the company concentrated more and more on the production of Bauhaus furniture classics and expanded that program with the "Stendal Collection" in which re-editions from the 1950´s as well as new designs were manufactured with the same demands for quality and consistent design that had always been its hallmark.