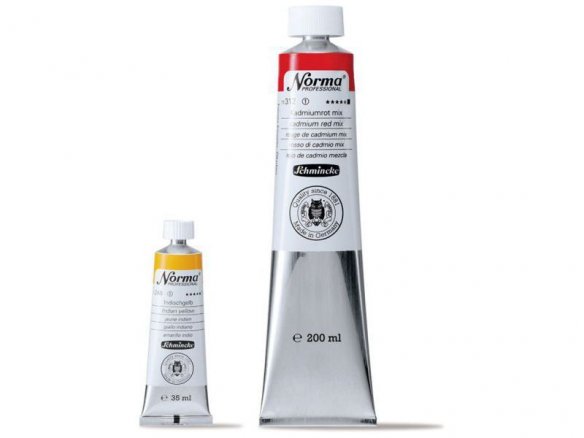 artist oil paints made from pure plant-based oils (linseed or sunflower oils), siccative and artist pigments, pasty consistency, from high to maximum lightfastness, can be intermixed and mixed with other oil paints, hazardous warning label not required under GefStoffV regulations
The Norma Professional line from Schmincke is, as the name implies, an oil paint for professional use. All 84 colours (including transparent and unique special colours) are formed with individual recipes that conform to ecological standards using linseed or sunflower oils and artist pigments as their bases. The result is high luminosity and brilliance for all the hues, which also have good adhesion and a reduced tendency to yellowing (high lightfastness). The manufacturing process uses a traditional three-cylinder ginding mill followed by a three month maturation period before being put into the tubes. This process guarantees the ideal development of the raw materials within the pure oil colours. 
The paint has a creamy-buttery consistency, which is a great characteristic for painting. In addition, its recipe assures a shortened and harmonious drying time for all the hues and thereby a durable surface. Norma Professional can be mixed with other oil paints. 
Set of 10 contents: colour hues 114, 236, 312, 318, 404, 418, 502, 600, 624, 704, painting medium ("Diluent N" thinner), 2 brushes, palette plug, charcoal
Set of 11 contents: colour hues 114, 236, 248, 312, 318, 404, 418, 502, 600, 624, 704, 2 brushes, palette plug, charcoal
Set of 15 contents: colour hues in 35 ml tubes 236, 240, 248, 304, 312, 318, 404, 418, 424, 502, 514, 600, 610, 624, 704, white (114) in 120 ml tube, medium ("Diluent N" thinner), 2 brushes, palette knife, twin palette plugs, charcoal