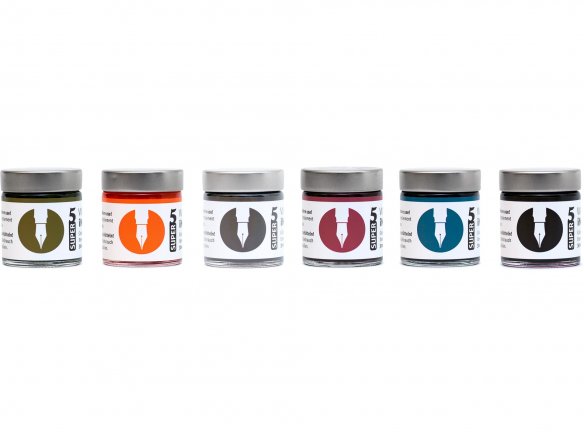 Product

ink for fountain pens, steel nibs, calligraphy utensils

Attributes

waterproof, lightfast

Colours

black, blue, dark red, grey, orange, green

Package content

50 ml
Super5 Ink comes in six opaque colours and is a waterproof and lightfast writing and drawing ink when applied to paper.
It is especially good for contour drawings (outlines) and texts that can later be coloured over or in with, for example, watercolour paints.
The idea behind the development of this special ink was to make it waterproof while still being usable in fountain pens - it is nonetheless advisable to rinse out a fountain pen with water after every use when Super5 ink has been the ink used.
We assume no responsibility for fountain pens in which the ink has dried out within.
In order to use the SUPER5 INK with a fountain pen, an applicable ink converter must be used.
Accessories and Related Products