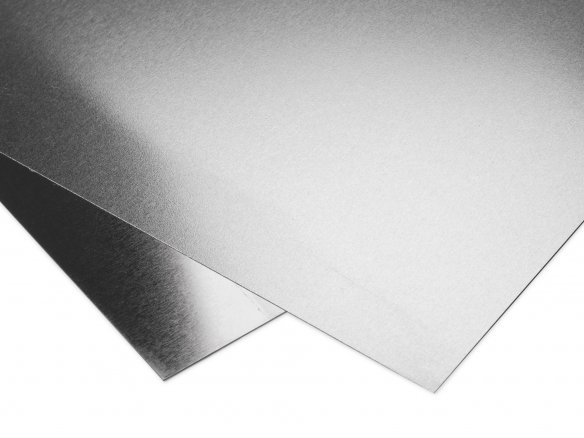 tin-plated in silver, smooth
Because it is magnetic, tinplate is a great material for wall panelling or for use as a magnet pinboard. Just like the cans you see in the gutter, tinplate will rust when exposed to weathering. The edges, which are not tinned, rust immediately.
Cutting work on these sheets can be done with a shears or a blade. Precise folded edges can be made by scoring first with a blade and then bending the sheets over some kind of straight edge. Because it is tinned, tinplate takes well to soldering. Gluing work can be done with two component adhesives like, for example, those based on EPOXY or CYANOACRYLATE. In model making, adhesives like RUDERER plastic glue and UHU HARD can also be used.
Steel tinplate, tinned, silk matt, approx. 0.2 x 260 x 450 mm
4 Variants
260 mm × 450 mm
260 mm × 470 mm
915 mm × 1040 mm
947 mm × 1050 mm
Note
Unfortunately, lightly scratched surfaces cannot be avoided, especially in the case of custom cut sheet steel.

Furthermore, please note that we can ship the larger tinplates only per forwarding agency, which means that there are higher shipping and handling costs. There is also a minimum order amount of 10 pieces per type of the larger sheets.