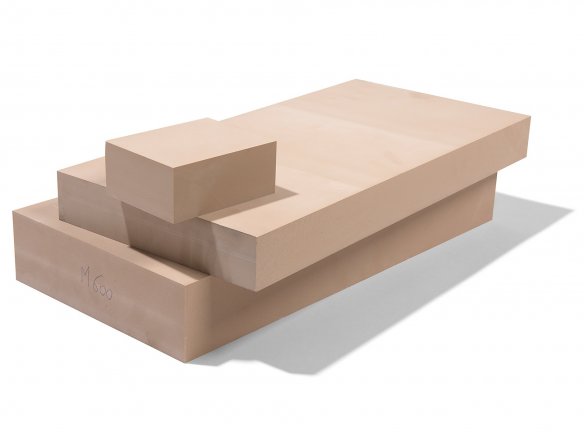 Material

microcellular, polyurethane-based model making material

Colour

light brown

Shore hardness

Shore 58 D (= 100 Shore A), very hard (ISO 868)

Density

600 kg/m³ (ISO 845)

Compressive strength

16 - 18 MPa (at 10% compression, ISO 604)

Bending strength

18 - 20 MPa (ISO 178)

Modus of elasticity

750 MPa (ISO 178)

Thermal expansion coefficient

linear 55 x 10-6 K-1(DIN 53752)

Heat deflection temperature

75 - 80 °C (ISO 75 B)

Impact resistance

8 kJ/m² (ISO 179 Ue)
Because of its high degree of stability and its excellent edge strength, the M600 board is a considerably more durable and robust model making material than rigid foam made of either PS or PUR. Its high density and the uniform smooth surface make it a good choice for producing data control models and master models as well as basic deep drawing moulds. In addition, it can also be used to make precisely shaped small parts that can be primed and painted without the need of any filling work.
Processing: When being machined, the M600 throws off much less dust than many of the products with the same density with which it is in competition. Its dense surface takes very well to being glued with cyanacrylate adhesives (superglue). Note: a bond will hold much better if the board is lightly moistened beforehand.
SikaBlock PUR M600 modeling board
5 Variants
95 mm x 120 mm
245 mm x 500 mm
500 mm x 1500 mm
Accessories and Related Products