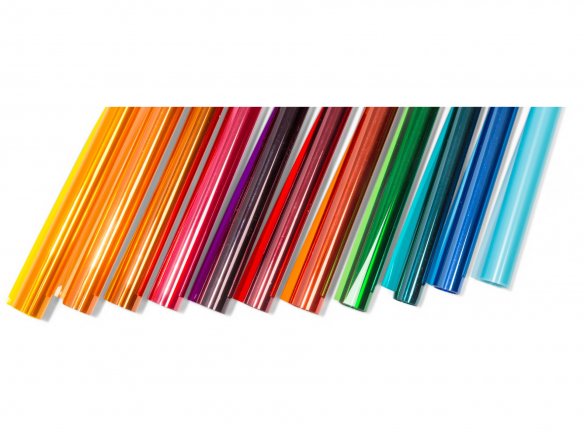 transparent, coloured, glossy/glossy, carrier material is polyester, both sides abrasion resistant, coated with flame-retardant per BS 3944 standard (describing flammability and dimensional stability for filters)
The E-Colour colour filter system from the Rosco company offers a very comprehensive and especially reasonably priced selection of colour filters. They are temperature resistant and flame retardant and can be directly used for colouring powerful floodlights and spotlights in the theatre and film production branches. When so used, the greatest possible distance between the light source and the colour film should be chosen and care taken that enough ventilation is at hand – self-made lighting should be so constructed that the inevitable heat that is produced can escape upwards. The manufacturer´s rough estimate of the film´s temperature resistance is that it is dimensionally stable up to 180 °C and that it will melt at 250 °C. These calculations, it must be said, are very dependent on the surrounding environment, the intended construction of the lighting device and the colour of the film being employed. Another very simple way to make coloured lighting is to wrap a fluorescent bulb with the colour filter sheet. The working temperature of this type of lighting is comparatively low and this allows the colour filter sheet to be directly affixed to the tube by means of adhesive tape.
The films are surprisingly thin and can be cut with a CUTTER or a SCISSORS. SCOTCH MAGIC TAPE is a great choice for adhesive attachments because it is heat resistant up to 150 °C. The relative thinness of the film can be disadvantageous if your proposed construction requires a certain amount of inherent stability. Transparent or, alternatively, translucent POLYCARBONATE or POLYPROPYLENE sheets are great for reinforcement purposes but PERFORATED SHEET or WIRE MESH made from various metals can be used for this purpose as well.
The E-Colour filter films are not expensive and come in a large variety of colours which are based on the European Cinemoid system. It should be noted that the films do not correspond to the B1 norm (anti-inflammable per German Industrial Norm) that is very often required for use in public buildings (the above mentioned BS 3944 is a British certificate). For this reason, Rosco offers an alternative film system called "Supergel". Through another type of film construction, these films are more light resistant and are indeed flame resistant as per the German Industrial Norm B1 – they are also much more expensive. We do not carry the Supergel films but will be glad to order them for you upon inquiry.
Attributes: A clear statement concerning the colour of light is always difficult because light exists in conjunction with heat. Not every plastic film is able to withstand the heat produced by certain bulbs. Rosco E-Colour filter films were developed for use in theatre and film work and are therefore capable of colouring a beam of light produced by a powerful spotlight. Exposing the E-Colour filter films to long term UV illumination can produce a mild bleaching of the film.
In order to get an impression of the colour that will be produced using a particular film, the chosen light source should be shined through the relevant colour from the colour samples onto a surface. Just holding the film in front of your eyes and looking into the light will usually give a false impression.
Applications: When constructing a lamp a few points should be observed: the heat that a colour filter must withstand is not just dependent on its separation distance from an incandescent or halogen bulb. Much more important is the ventilation that the lamp allows. In the same way that the classic writing table lamp has a reflector with holes on its top side, a self-made lamp should be so constructed that the rising heat from the light source has an escape route. In this way the lamp produces, as if on its own, a cooling stream of air. A further issue concerning heat: the heat produced by a spotlight with a reflector is usually greater than that from one with a system of lenses because the reflector, in contrast to lenses, also tends to gather heat.
One easy way to make a lamp is to simply wrap colour filter film around a fluorescent tube. The temperature of a fluorescent tube is much lower than that of other illuminants so it is OK to just directly wrap the film around the tube. In this case, as also in the case of constructing any lamp with an incandescent or halogen bulb, the best agent for holding the film in place is SCOTCH MAGIC TAPE because it can withstand heat up to 150° C.
Treatment: Colour filter films are very thin which means they can be easily cut using a BLADE or SHEARS. This thinness and lack of strength is a disadvantage when the planned construction requires an inherent stability. This problem can be solved by using perforated sheets, wire mesh or expanded metal as a carrier material allowing for as much open area as possible (ao). Because of high resistance to heat, POLYCARBONATE or POLYPROPYLENE panels can also be used as long as enough ventilation is provided for in the lamp. Colour filter films can be attached to one another or to other materials with heat-resistant ADHESIVE TAPES, rivets or clamps. Please take into account the different expansion rates for any materials used in a construction that will be exposed to extreme fluctuations of heat. You should resist, for example, gluing a large area of metal with filter film because the resulting stress will quickly fatigue the adherence.
Rosco E-Colour filter film, sheet
244 mm x 500 mm
500 mm x 1220 mm
Note
Please note that we do not have all the films in the Rosco E-Colour fan in stock. Upon inquiry, we will order any missing colour. When asking for the minimum order amounts and delivery times please utilize the article number given in the colour fan.