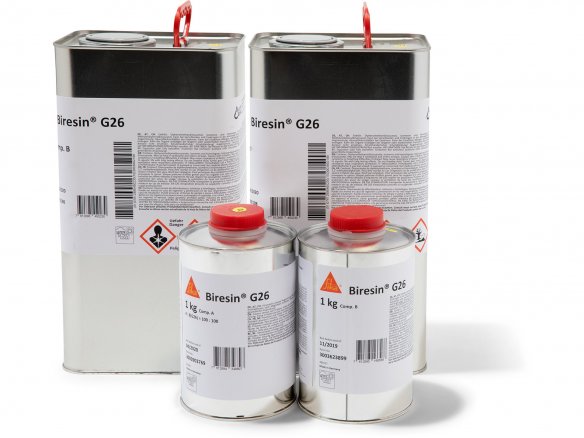 Material

2 component quick casting resin

End state

cures to an opaque beige-brown colour

Density

(at room temperature) approx. 1.1 g/cm³
Description
Hazard warnings
F26 is a versatile two-component system with very fine textures which can be used for fast casting of models, trial moulds, shaped pieces, artistic commercial articles and other small to medium sized pieces.
Its low viscosity allows it to be poured easily and to be used for intricate shapes. Because of its somewhat longer working life, there is time to allow the escape of air bubbles before the pouring begins. Layers of F26 that have been poured one after the other with 5 minute intervals bind to one another very well. It has a short de-moulding time and very little shrinkage. Depending upon the thickness of the poured piece, it can be de-moulded after 30 minutes (thickness less than 10 mm) or up to 45 minutes (thickness more than 10 mm).
By virtue of its combined attributes of low viscosity and high wettability (ability of a liquid to maintain contact with a solid surface, resulting from intermolecular interactions when the two are brought together), the quick casting resin F26 is able to handle a large amount of filler. Filler types and amounts can be chosen according to the intended use, be it for casting in thin or thick layers or also for making putty. For pouring thicker layers (over 20 mm), a ratio of 300 parts filler to 100 parts each of resin and hardener can be employed; for thinner layers no more that 200 parts filler should be added.
As compared to F27, the F26 fast cast resin distinguishes itself by its high impact resistance and elongation at tear. When cured, the F26 lends itself very nicely to mechanical processing. (In order to modify the working life and the mechanical attributes of F26, the F27 curing agent can be used as the second component instead.)
Please note that when F26 casting resin is exposed to the outdoors for longer periods of time (without being sealed with an appropriate agent), the fact that it is not UV resistant will result in its yellowing or becoming dangerously brittle. On the other hand it should be noted that a cured object will survive short-term (a few weeks) in (sweet) water – for what that´s worth!
Danger, Alkylaminopolyoxyalkylenol >= 25 - < 40, Kohlenwasserstoffe, C12-C15, n-Alkane, Isoalkane, <2% Aromaten >= 5 - < 10, Propylencarbonat >= 5 - < 10, 4-Morpholincarbaldehyd = < 1, Trimethylolpropan = < 1, (VOC-Gehalt CH = 0,42 %, ohne VOC-Abgabe; VOC- Gehalt EU (Lösemittel) = 15,32 %), Diphenylmethandiisocyanat, Isomeren und Homologen >= 25 - < 40 %, Bis(isopropyl)naphthalin >= 25 - < 40 %, 4,4'-Methylendiphenyldiisocyanat >= 10 - < 20 %, o-(pIsocyanatobenzyl)phenylisocyanat >= 5 - < 10 %, 2,2'-Methylendiphenyldiisocyanat >= 0,1 - < 1 %, (VOC-Gehalt = 0,0 %), Augenreizung, Kategorie 2, Akute Toxizität, Kategorie 4, Reizwirkung auf die Haut, Kategorie 2, Sensibilisierung durch Einatmen, Kategorie 1, Sensibilisierung durch Hautkontakt, Kategorie 1, Karzinogenität, Kategorie 2, Spezifische Zielorgan-Toxizität - einmalige Exposition, Kategorie 3, Atmungssystem, Spezifische Zielorgan-Toxizität - wiederholte Exposition, Kategorie 2 , Aspirationsgefahr, Kategorie 1, Langfristig (chronisch) gewässergefährdend, Kategorie 1
Hazard warnings
EUH208: Contains (name of sensitising substance). May produce an allergic reaction. (EUH08 may be omitted if EUH204 or EUH205 has to be applied.)
H319: Causes serious eye irritation.
H304: May be fatal if swallowed and enters airways.
H315: Causes skin irritation.
H317: May cause an allergic skin reaction.
H332: Harmful if inhaled.
H334: May cause allergy or asthma symptoms or breathing difficulties if inhaled.
H335: May cause respiratory irritation.
H351: Suspected of causing cancer .
H373: May cause damage to organs through prolonged or repeated exposure .
H410: Very toxic to aquatic life with long lasting effects.
Safety instructions
P264: Wash … thoroughly after handling.
P280: Wear protective gloves / protective clothing / eye protection / face protection.
P305+P351+P338: IF IN EYES: Rinse cautiously with water for several minutes. Remove contact lenses, if present and easy to do. Continue rinsing.
P337+P313: If eye irritation persists: Get medical advice / attention.
P260: Do not breathe dust / fume / gas / mist / vapours / spray.
P273: Avoid release to the environment.
P301+P310: IF SWALLOWED: Immediately call a POISON CENTER / doctor / ….
P308+P313: IF exposed or concerned: Get medical advice / attention.
P312: Call a POISON CENTER / doctor / … if you feel unwell.
P331: Do NOT induce vomiting.
P340: Remove person to fresh air and keep comfortable for breathing.
P391: Collect spillage.
Downloads
PUR F26 fast cast resin (G26)
4 Variants
Note
Most polyurethane casting resins are flammable, harmful to health and the environment and must therefore not be supplied to private end users. Therefore, please send us commercial or professional proof when placing an order. Please observe the hazard and safety information on the packaging and the notes on safety and occupational health under the headings "Polyurethane" or "Casting resins". The product consists of 2 components (resin and hardener)!

Contains diisocyanates! As of August 24, 2023, appropriate training must be provided prior to industrial or commercial use.
Accessories and Related Products