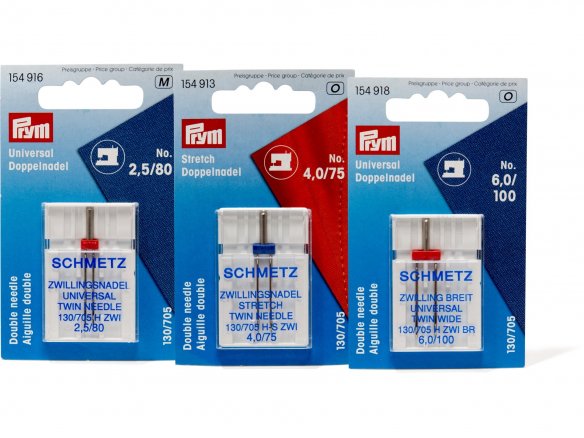 for parallel double and decorative seams
in flat piston design
for elastic and inelastic fabrics
Material

steel, rust-free

Construction

flat shank, longitudinal groove, polished eye

Dimensions

l = 40 mm, space between needles: 2,5/4/6 mm, needle thickness: 0,75/0,8/1,0 mm

Packaging

small plastic box on a blister card
Exactly parallel double seams (decorative seams, seams, ...) are obtained by using Prym twin needles.
The universal needles are suitable for sewing almost all inelastic natural and synthetic fabrics. For thinner, sensitive fabrics (linen, poplin, inlette, cotton fabrics, ...) needle (154916) with a medium thickness (thickness: 80) and a needle spacing of 2.5 mm is recommended, for thicker cotton fabrics such as jeans a thicker needle (154918/thickness: 100) with a needle spacing of 6 mm should be used.
Prym double needles "Stretch" have a thin ball point (thickness: 75), which is intended to prevent the formation of a thin ball point when sewing elastic knitted fabrics, jerseys, fleece, corsetry fabrics or ... Form run meshes. Needle 154910 has a needle distance of 2.5 mm, needle 154913 a distance of 4 mm.
Prym double sewing needle
4 Variants
Accessories and Related Products