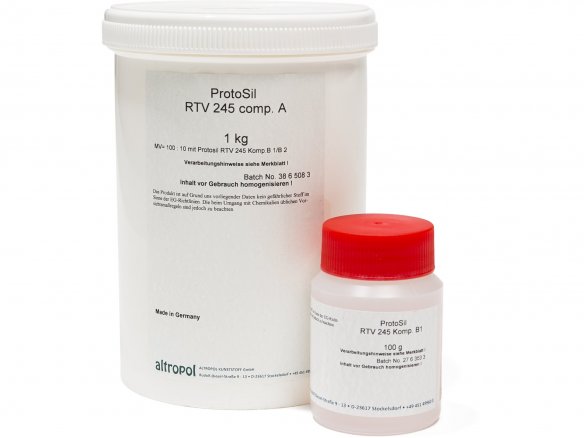 addition-crosslinked precision silicone for moulds, medium hard (app. 42 Sh-A), highly elastic, very high degree of stability, high viscosity (limited pourability), when cured the material is transparent, mixing ratio of A component to B is 10:1, pot life is about 80 minutes, demould time is 12 hours, shelf life with proper storage is 12 months minimum (components A and B)
RTV 245 silicone is particularly great for making one-piece moulds which require being cut when being demoulded from the master pattern because its transparency allows you to see exactly where you are cutting and this helps you to avoid damaging your master pattern in the process. Once cured, this material has excellent mechanical attributes with good transparency and produces great detail in reproductions.
The vulcanization process can be accellerated by means of heating up the material to maximum 150 °C but it should be noted that it will lose transparency in the process, becoming somewhat milky. If transparency is important, the curing process should occur at temperatures of 23 °C or less.
A vacuum device is necessary for the removal of any air that may have been trapped during mixing if you want your material to be bubble-free. For this purpose a vacuum of 30 to 50 mbar will suffice. It is possible to work with this silicone without the use of vacuum but it is not really recommended because a bubble-free mixture is what you really want for best results.
Protosil RTV 245 silicone, component A (polymer) 1.0 kg in tin container
Note
The product consists of two components (polymer and curative)!