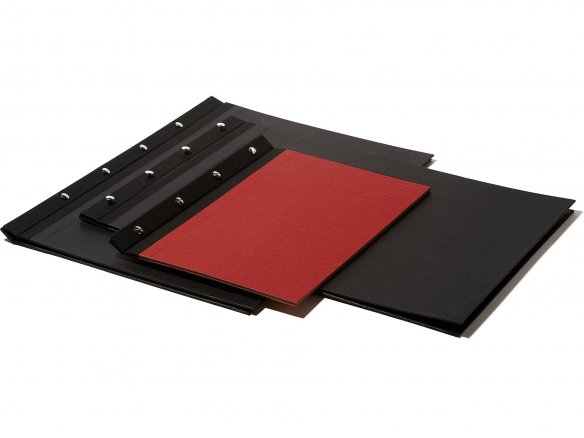 Product description

cardboard cover laminated with coloured wibalin paper (linen embossing), black linen spine

Use

for approximately 20 standard report covers with universal hole pattern, expandable
This presentation album with cloth spine is a beautiful but unostentatious display book at a very reasonable price into which all report covers with universal hole patterns will fit. The album is held together with four bookbinding screws that are 12 mm long whose capacity is about 20 report covers. If you use too few report covers the screw posts will tend to wobble. The fact that the front and back covers are only attached to one another by the bookbinding screws allows the use of either longer or shorter screw posts with the result that the capacity of the album can be reduced or, alternatively, increased to an almost unlimited degree. Adding ten report covers requires about 3 mm longer screws.
The album can be opened up flat on the table and the report covers are bound in such a way that the hole margin is hidden, which means that double-sided presentations are possible. With the use of INSERT SHEETS FOR SEMIKOLON (PHOTO-) FOLDER, this presentation album can become a versatile photo album within which the pages can be combined, expanded or exchanged as your heart desires. However, approximately 25 mm of the layout are not usable because of the screw binding.
Please note: Upon inquiry, these display books can be customized to your specifications (embossed, printed, etc.). Further information can be found under the heading YOUR LOGO ON MODULOR PRODUCTS.
Post presentation album with linen spine
5 Variants