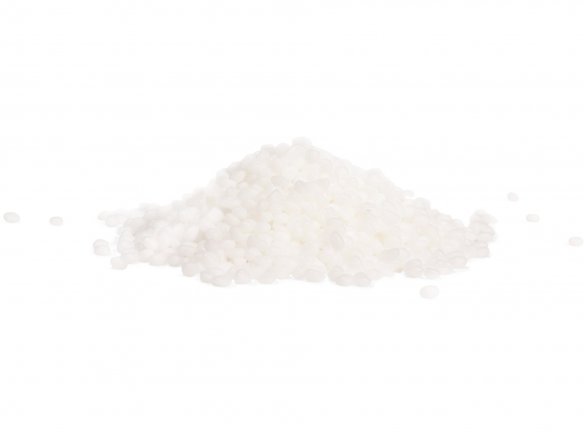 Material

granules, polyurethane elastomer

Colour

white

Grain size

approx. 3 mm

Attributes

melting point ca. 60 °C

Weight

1.2 g/cm²
This modeling material is a thermoplastic elastomer with special attributes: the granules, whose surface brings wax, POM or even Teflon to mind, has a low melting point and can be melted in hot water to produce a soft, malleable (at that point also transparent) modeling compound. The material stays malleable for one to two minutes; it is only when completely cooled that it again becomes hard and white. This process can be repeated as often as you like (you can also just reuse part of mould you made).
Once hardened, this elastomer is very solid, rigid and clearly tougher than, for example, Polystyrene. Even when not very thick, it resists breaking due to its elasticity. The surface is so hard that you can't even make a dent in it with your fingernail. It nonetheless has in fact a waxy feel to it – much like POM or Teflon. Any small unevenness or bumpiness can be corrected by heating it with a hairdryer or by sanding it with SANDPAPER. Acetone can be used to partially dissolve the surface as well. Once hardened, the material can also be drilled and tapped.
Processing: To get started, it is best to heat the granules for about one minute in approximately 60 °C water; alternatively, a Hot Air Gun or a microwave can be used for heating purposes.
The softened material should then be removed from the water and worked with (if necessary, use a tool to remove it from the water and then quickly chill it in cold water or allow it to cool in the air). Then squeeze out any excess water.
Application: These modeling granules have many applications: for instance, the handles of existing tools or fittings can be re-formed, customized, enlarged or replaced. Housings and mounting supports, rods, tubes, pipes, etc. can likewise be joined to one another with this stuff as well. You can really make any kind of plastic object you want with this material including mountings, connectors, push-buttons, covering hoods as well as other types of buttons, rolls, rings, buckles (it has a similar appearance and similar attributes to nylon), and any other shaped pieces you can think of!
Modulor thermoplastic modelling granules
3 Variants