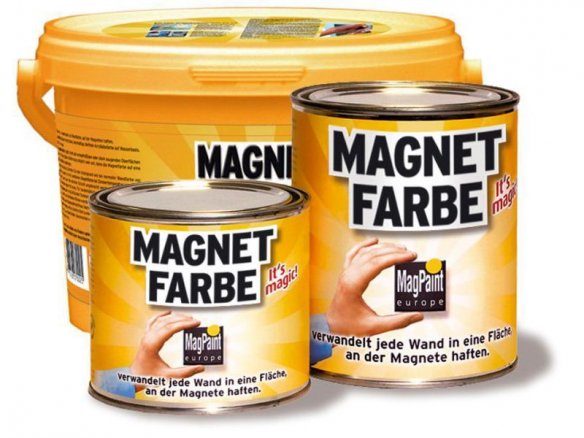 water-based dispersion paint containing iron for interior use, dark grey, matte, solvent-free, lead-free, can be used on polystyrene, can be painted over, does not rust
In contrast to other such products found on the market, the magnetic paint from Magpaint is rust-free and conforms to the so-called "Spielzeugrichtlinie" (toy regulations) EN 71-3 designating it as saliva and perspiration resistant – i.e. approved for children's toys.
Magnetic paint is not itself magnetic but does contain a high percentage of iron pigments that allows magnets to stick to it and thereby turns a wall into a magnet board. If it may be the case that you will eventually want to remove the magnetic paint, you should apply a thin sheet of wallpaper to the wall beforehand. You can paint over this matte grey interior paint with any other wall paint or varnish and you can even wallpaper over it. The best magnets for use with this paint are lightweight and strong magnets like NEODYMIUM MAGNETS or MAGNETIC FOIL. If you want to wallpaper over it, we recommend that you try it out first on a small area to ascertain just how much magnetic force is still possible through the paper.
The paint should be thoroughly stirred both before and during application because the iron pigments will tend to fall to the bottom of the can or tub. Very absorbent surfaces must definitely be primed before application but smooth, less absorbent surfaces can be painted on directly with a roller, brush or spray device. The best results will be attained at a working temperature of 20 °C and a drying time (per coat) of about 4 hours. In order to realize a surface with good magnetic quality we recommend 3 coats of paint – in which case 1 litre will be enough to cover about 1.7 square metres. Additional coats will increase the magnetic quality of the surface. You should allow at least 24 hours drying time before applying a finishing coat.
Magnetic paint should not be thinned or mixed with other types of paint. Any tools used can be cleaned with water and soap. The paint should not be used at temperatures over 35 °C or under 5 °C because the paint under such conditions cannot attain homogeneity when stirred or worked with. It the can or tub is stored with the lid well closed and free from moisture the paint will remain functional for up to 24 months.
Magnetic paint
3 Variants