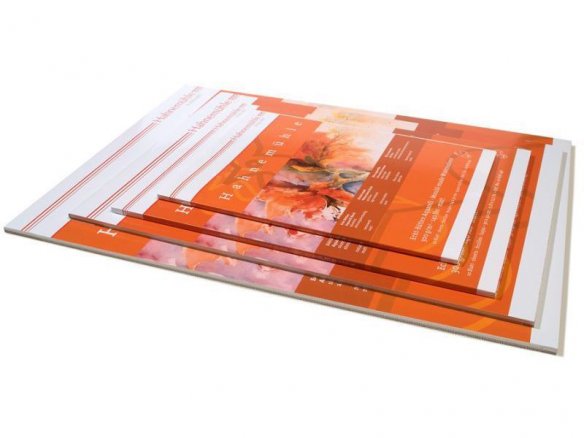 natural white mould-made paperboard, matte (lightly grained texture) or rough (course grained texture), acid-free, lightfast (non-fade), aging-resistant, gummed on all sides with a gauze strip, cover is printed paperboard, rear cover is cardboard
The mould-made Hahnemühle watercolour board pad contains a natural white, acid-free, lightfast and aging resistant paperboard. The pads are gummed and gauzed to ensure flatness when wet. This board is suitable for all watercolour techniques including wet-in-wet, crisp and hard-edged colour effects (only slight bleeding), smooth washes and dry brush techniques. It is also ideal for painting techniques such as lavis (black and white ink watercolour painting), gouache, tempera and acrylic.
By virtue of being available with two different surface textures (matte = fine grain texture; rough = course grain texture), this mould-made paperboard is suitable for use by beginner as well as professional artists.
Hahnemühle mould-made watercolour board, 300 g/mř
7 Variants