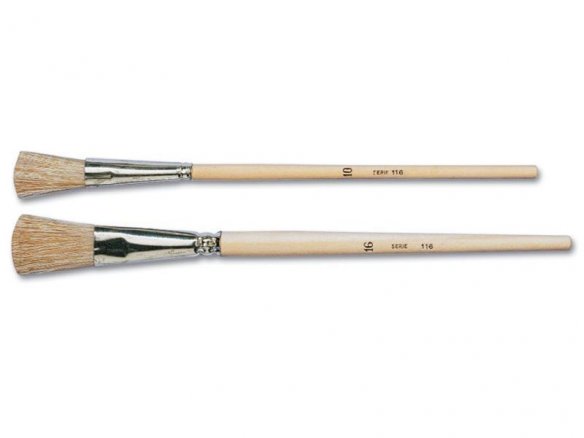 China bristles (Chungking), tin ferrule; short, raw wood handle, sizes 10--20 mm, exposed hair length 12-29 mm, total length 200-240 mm, w = width of ferrule
This inexpensive utility brush should be used for basic paint work such as, for example, primer coats whereby precise strokes are not really necessary. The long supple bristles will take up a great deal of paint.
The best and most well-known boar bristles come from China and Russia. They are distinguished by their robust structure, excellent elasticity and high degree of resilience. Bristles have a rougher texture than natural hair and the tips of the individual strands end in a so-called "flag", which means it divides there into many thin ends. This "flag" contributes significantly to the ability of a brush to yield a more even application without leaving grooves.
Da Vinci utility brush, flat
6 Variants