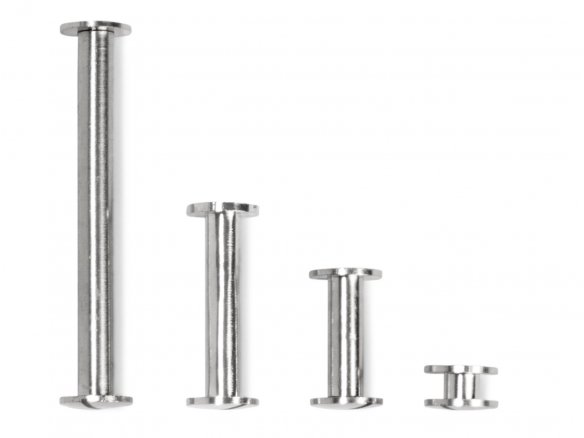 silver, glossy, 2-piece (shaft and screw), thread M4, ø shaft 5 mm, ø head 10 mm, given lengths = the distance between the two heads
Bookbinding screws allow you to bind together stacks of paper or cardboard with different thicknesses. With this method, unique sample-fans, photo albums (e.g. hidden post photo album) or presentation folders can be made.
The given lengths describe the possible thickness of your "book" between the two screw heads. When trying to choose the right screw length, please take into consideration that you do not want bookbinding screws that are too long because the bound sheets of paper will tend to flap around - a 20 mm screw, for example, is the right one for a 20 to 24 mm stack; after 25 mm a 25 mm screw must be employed. By utilizing the extensions that are available, the distance between the two screw heads can be increased 5 and 10 mm respectively. It should be noted that the 5 mm extensions can only be used in conjunction with the shorter bookbinding screws (up to 5 mm) because the longer screw part of the longer bookbinding screws (7 mm and up) cannot be fully screwed into the short extension.
Not all bookbinding screws are alike. The most important things to note are whether it is easy to screw both in and out, how well it holds the joined material together despite that ease of use, whether, after being used numerous times, it begins to change colour (i.e. the alloy fades) and, lastly, whether it is substantially made.
These characteristics were the basis for our choosing this particular product for our assortment. They are the result of the fact that the head as well as its counterpart, the shaft, are both made of solid brass (only the unusual sizes from 30 to 50 mm are made of brass coated steel). In addition, all orders starting at 10 mm shaft length will include the appropriate heads with screwdriver slots in them for ease of screwing. All the bookbinding screws have a diameter of 5 mm; for the purpose of drilling the appropriate holes, a 5 mm HOLLOW PUNCH is recommended or perhaps a HOLE DRILL or PAPER DRILL for those inclined to laziness.
Brass bookbinding screws, nickel-plated
29 Variants
2 mm
3,5 mm
5 mm
7 mm
10 mm
13 mm
16 mm
20 mm
25 mm
30 mm
40 mm
45 mm
50 mm