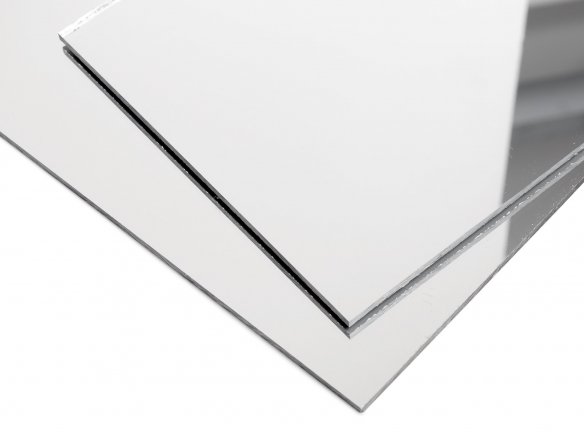 reverse side is mirrored, front side with protective film, all edges trimmed
The brilliance of mirrored PLEXIGLAS® is definitely comparable to that of real glass mirrors. As with conventional glass mirrors (as opposed to optical mirrors like the ones used in reflex cameras), the actual reflection takes place on the back surface of the glass: there you will find a very smooth coating of metal foil which produces the reflection whereby the light rays pass back through the glass or acrylic panel. What makes acrylic mirrors special is that they are much lighter in weight than glass ones. They are also less prone to breaking, which accounts for their often being used in situations where such a danger exists. They do have the disadvantage, however, that their surfaces are much more prone to scratching.
If you plan to work on the mirror's surface or if it is to be exposed to some other kind of mechanical stress, a glass mirror should be used. In addition, mirrored acrylic glass can only be lasered to a limited extent. The film can peel off due to the effect of heat and fringes can form on the edges. On the other hand, the acrylic version is wonderful for hanging on walls, as a cosmetic mirror and vanity mirror and for enlarging smaller spaces.
Custom cutting available. Choose your desired size! For more information about our custom cutting service, please visit Modulor Services. When PLEXIGLAS® mirror is custom cut, the edges will not be completely smooth because the metal foil tends to fray.
Acrylic glass XT mirror, silver, smooth (custom cutting available)
3 Variants
custom cutting
120 mm x 250 mm
250 mm x 500 mm