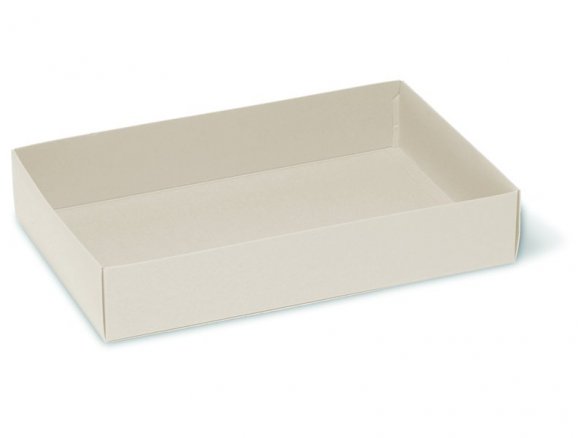 slip lid folding box made of recycled fine ca 350 g paperboard, solid colour, matte, stamped, top and base available separately, sold individually, flat when delivered
A Buntbox gift box is sleek, looks great and has a nice feel to it (matte fine paperboard saturated in colours). It is made of 100% waste paper and can be fashioned in a unique way because the colours of the tops and bases can be mixed and matched. These folding boxes are flat when delivered so they are space-saving until you need them.

The outer dimensions of the "S(mall)" Buntbox are: length, 102 mm, width 65 mm and height 46 mm. Its floor area is a little larger than DIN A7 (size of a business card). The "M(edium)" box dimensions are: 170 x 110 x 60 mm and roughly corresponds to DIN A6 (flyer size). The "L(arge)" box dimensions are: 266 x 172 x 78 mm, which is somewhat larger than DIN A5. The XL gift box dimensions are: 340 x 220 x 115 mm, which is ample space for objects of A4 size. The winebox dimensions are: 320 x 88 x 88 mm, which is large enough for most customary types of wine bottles.
Buntbox gift box, rectangular
73 Variants
Accessories and Related Products