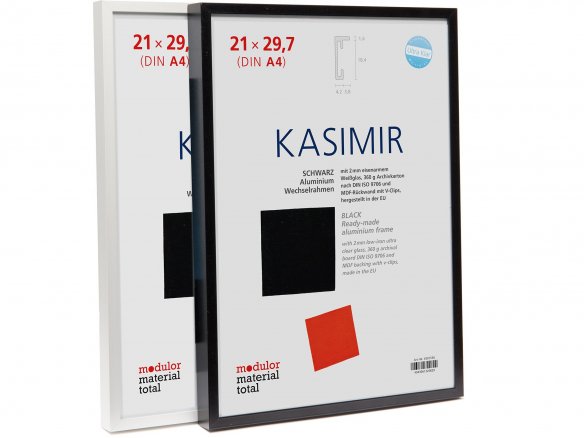 anodised aluminium, profile width is 8 mm, profile height is 20 mm, sides are joined by press-fitted steel brackets, 2 mm thick float glass with ground edges, rear panel is 2 mm thick MDF, spring clips hold the inserted material in place, the clips for sizes 400 x 500 and larger are attached to the rear panel with rivets and can be rotated
This is a neutral and in the positive sense inelaborate picture frame, a versatile frame with an unostentatious narrow profile which provides the picture, photograph or drawing enough space to breathe. As background for the frame you can use PHOTO MOUNTING BOARD, acid-free, bright white BRISTOL BOARD or acid-free and highly aging resistant PASSEPARTOUT depending on your requirements or purposes. These are, of course, only a few of the many popular possibilities.
The frame can be easily hung by simply setting the upper frame piece on a nail or hook. Another more elegant and flexible method would be to employ PICTURE HOOKS that are a part of a PICTURE HANGING TRACK system and which can be attached directly on the frame profile or on the spring clips which have holes for that purpose.
The given dimensions refer to the size of the glass or the rear panel. In reality, what can actually be seen is about 4 mm less all the way around because of the frame overhang.
Wechselrahmen Alu Kasimir, schmales, flach. Profil
28 Variants
130 mm x 180 mm
148 mm x 210 mm
180 mm x 240 mm
210 mm x 297 mm
240 mm x 300 mm
297 mm x 420 mm
300 mm x 400 mm
400 mm x 500 mm
420 mm x 594 mm
500 mm x 600 mm
500 mm x 700 mm
594 mm x 840 mm
600 mm x 800 mm
700 mm x 1000 mm
Observación
Aluminium picture frames are not available by mail order because despite every effort to the contrary they often enough end up getting damaged during delivery. They are available for pick-up at our shop in Berlin – travel costs, however, must be absorbed by the customer!