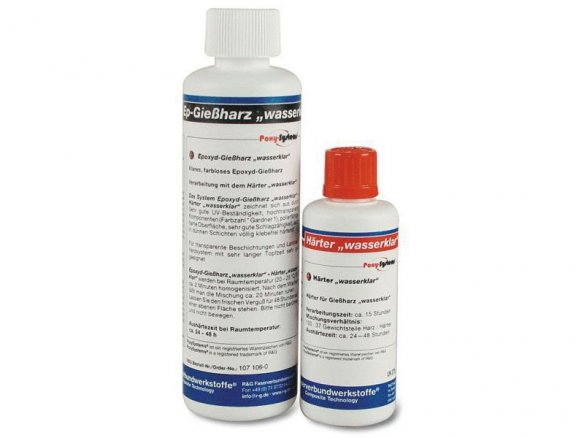 cold-curing, two-component casting resin consisting of bisphenol A-epichlorohydrin and epoxy hardener with polyoxyalkyleneamine, unfilled, hard, very low viscosity (very pourable), cured material is colourless and transparent, resin density (at RT) app. 1.14 g/cm³, hardener (at RT) app. 0.95 g/cm³, good UV resistance, takes well to colouring, mixing ratio of resin to hardener 100:37, pot life app. 15 hours, demoulding time 48-62 hours, temperature resistant up to app. 60 °C, shelf life when properly stored: minimum of 12 months (resin and hardener); hazard warning: resin: Xi (= irritant), N (= dangerous for the environment); hardener: C (caustic)
This "Epoxy casting resin, water clear" product is a very low viscosity, to a large extent shrinkage-free, particularly pourable resin that produces a highly transparent cast piece that has a very smooth, polishable surface – it is also sold in comparatively small amounts. Even when mixing only a small amount, it has good reactivity which is why even cast objects that are 500 grams or less will be formed without the surface of the poured material sinking or becoming concave during curing, or, if it does, only to a very minimal extent. This casting resin is almost completely colourless, only exhibiting the slightly yellowish tone that is typical for epoxy. Even when poured in thin coats it cures without stickiness, which makes it as great a choice for transparent coatings as it is for the embedding and covering of objects. This epoxy is normally used in an unreinforced form but it can also be used in a reinforced form as a laminating resin (with a very long pot life) even if there are in fact other, probably better resins that have been specially developed for just that purpose.
This resin can also be used to pour casts - for example in silicone moulds- for the production of extremely impact resistant, especially sturdy small parts or elements for use in making jewellery or objects for other design oriented sectors. For more information concerning this use, please consult the information under ADDITION-CROSSLINKED SILICONE or CONDENSATION-CROSSLINKED SILICONE. This resin can be coloured by means of DYES FOR SYNTHETIC RESINS.
If you plan on pouring this resin to make large blocks, one problem you will confront is the exothermic reaction, which in the case of large volumes is increased considerably. To solve this problem, you will have to work in stages whereby each coat should not be thicker than 50 mm.
This resin has a very long curing time, which can be disadvantageous for many applications. It was the constant requests for a very pourable resin that could produce highly transparent castings without having to employ a vacuum pump that led us to include this product, despite its very long pot life, in our assortment.
Resina epoxi para colada, cristalina
4 Variants
Curing agent
Resin
Resin and Curing agent
Observación
Please take note of the information regarding dangers and safety displayed on the package and the information pertaining to health and work safety under the heading "Epoxy Resins" or "Casting Resins".

Please note: larger orders of this product can only be shipped per freight forwarding, which will result in higher shipping and handling costs.

The product consists of two components (resin and hardener)!