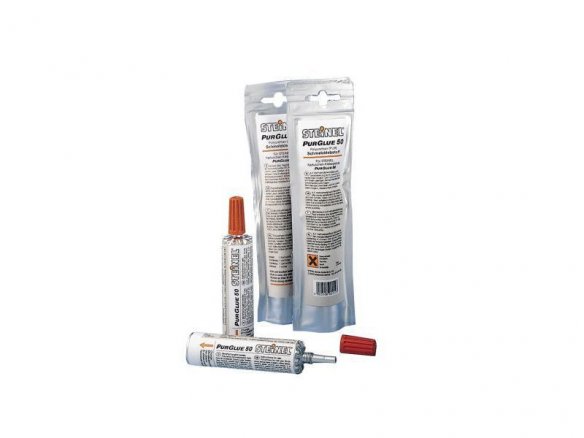 grey plastic housing, electronically regulated, mechanical feed, for use with Purglue 50 glue cartridges Power supply: 230-240 V Output: 14 W (starting phase 500 W) Warm-up time: 10-13 min Glue application temperature: 100-140 ºC Max. application time after heating up: 15-20 min Thermally stable (long term): -40 to +100 °C Weight: 400 grams (without stand)
Normal glue guns use glue sticks made of EVA (ethylene-vinyl acetate), which have the advantage that they allow you to make quick bonds between materials even when the available surface for gluing is very limited. In addition, those hot glues can be applied in different thicknesses, a feature that allows you to fill or bridge over gaps that are a few millimetres wide. These uses are also offered with the Purglue 50 hot melt glue but it has another decisive feature as well: it has a much higher bonding strength. This is a high-strength polyurethane reaction adhesive that attains within a few minutes a strong initial bond (as it cools). This means that no time-consuming fixing of the glued piece with devices is required. In the second bonding phase, a chemical reaction between the adhesive and the ambient moisture results in subsequent crosslinking to produce an even greater, load-bearing and permanent final bond strength.
Purglue 50 also has a lower application temperature than conventional hot melt glues, making it kinder to temperature sensitive materials like thermoplastics. Once cured, the bond is weather resistant and the glue itself can even be successfully applied in moist interior environments. All in all, the Purglue 50 should not just be considered as a handicrafts aid but rather more as a tool for making high-strength bonds, one primarily intended for use in industry and in the trades.
With the exception of the usual troublesome materials like PP, PE, POM or polystyrene, the Purglue 50 can be used to make bonds between practically all materials including wood, leather and textiles as well as extremely smooth materials like ceramics, glass, marble and metal.
Treatment: One really nice feature of the Purglue 50 hot melt gun is the possibility of using it for up to 20 minutes cordlessly. The solvent-free, single component PUR adhesive comes in a cartridge which you insert into the gun's housing much like inserting a silicone cartridge when grouting tiles; the amount of glue being applied is controlled by a trigger. The gun should be placed on the charging station for about ten minutes to allow the heating head with the glue in it to heat up to working temperature. Once the glue has reached the correct application temperature, a green light on the charging station signals its readiness and the cordless gun can be taken from its holder. You can then work with the glue for 20 minutes without any restrictions to your movements. The bonds achieved are extremely strong within the given temperature parameters – but they can also be separated without leaving any residue by applying higher temperatures (130 degrees and up) to the bond by means of, for instance, a HOT AIR GUN.