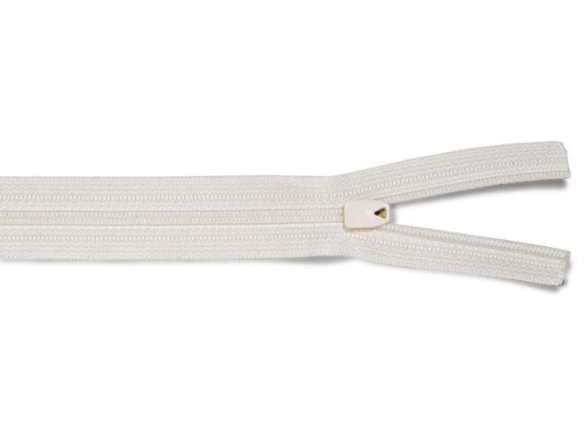 not separable, polyester spiral, width is 3 mm, plastic slider for bedclothes, polyester tape, machine washable to 60 °C, certified Oeko-Tex Standard 100, 10 meter roll including 10 sliders
This fine spiral zipper, which is sold by the running meter and intended for use on bedclothes comes with a sliders that are called "Mangelschiebern" in German meaning they have no puller (tab).
The sliders are included in your order and must be attached (engaged) on your own. In many cases it is possible to wait until the zipper tape has been sewn into place before you engage the slider so that it doesn't get in the way during the sewing process. Engaging the slider can require a little practice at first but in the end can be fairly easily accomplished. In order to close off the bottom end of the zipper it is only necessary to sew a few stitches over the soft spiral mechanism.
Zip fastener, plastic, f.bedclothes, sold by meter, white (0045713-582)
Note
Minimum order amount: 0.5 running meter; be sure to tell us how many sliders you need. Please note: products cut from rolls cannot be exchanged.