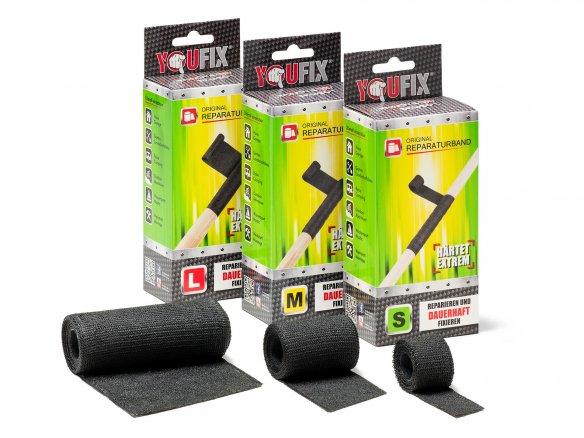 Resin-coated fibreglass binding
to use just add water
extremely hard
durable
weatherproof
Temperature resistance

-45 °C to +150 °C

Pot life

2-5 minutes

Hardening time

20 minutes

Colour

black

Contents

YouFix tape, disposal gloves, vinyl tape, sanding paper,

25 mm tape

for ᴓ 5 – 20 mm

50 mm tape

for ᴓ 15 – 30 mm

100 mm tape

for ᴓ 20 – 50 mm
The YouFix Original repair tape distinguishes itself from customary repair tapes through its novel construction and technical properties. The tape is great for quick and easy repairs of loose or broken objects. The advantages of the YouFix repair tapes become especially apparent when any type of emergency arises and you are left to your own devices: on vacations, on trips, when waterborne or simply in situations where the required tool is unavailable.
Use of this tape is particularly simple. Loose parts are basically put into aligment and then affixed with the tape. It is best to protect or mask any sensitive areas around the break in advance in order to prevent them from getting dirty. Particularly smooth surfaces should be roughed up a bit with the sandpaper provided for that purpose.
Directions: hold the tape (while still rolled) under water using gloves until the roll is thoroughly soaked. After the first layer has been wrapped loosely enough that your repair area will not move out of alignment you should make the following wraps ever tighter until you are satisfied. Depending on the stress the area will be exposed to, 4 to 6 layers should be wrapped with an overhang of between 5 to 10 centimetres. Excess water should be squeezed out in the direction of the wrapping job.
The last step is to completely wrap the repaired area with the vinyl tape provided for that purpose. This process compacts and concentrates the repair tape providing a better seal and leads to your area being much smoother when cured.
After 20 minutes the vinyl tape should be removed and the repaired area sanded or painted if so desired. The final repair is waterproof, watertight and the bond is super strong and non-breakable.
Accessories and Related Products