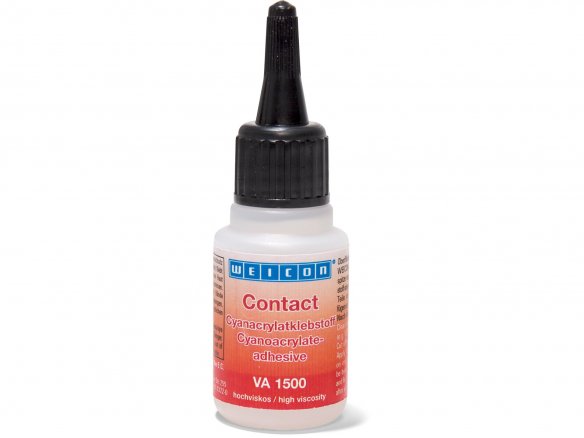 ethyl cyanoacrylate adhesive, sets colourlessly, begins adhering after 5 - 120 seconds, hazard warning: Xi irritant
This high viscosity cyanoacrylate contact adhesive can bridge gaps up to 0.2 mm and in the process is colourless when cured. Its bonds are to a large extent stress-free and impact resistant. It will not appreciably run off of a vertical surface, an attribute that is very convenient when working with it. Its viscosity predestines it for use on absorbent surfaces like wood or ceramics. The long curing time allows for repositioning of the assembly pieces.
In order to apply glues that come in large bottles or tubes with large openings in more precise amounts, SYRINGES and DOSING DISPENSERS are very often employed. The blunt applicator needle is especially good for use as an attachment on super glue bottles.
Weicon super glue VA 1500, high viscosity
2 Variants