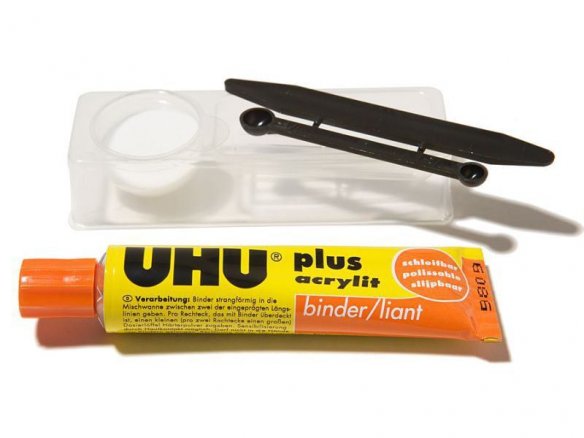 two component acrylate-based adhesive, amber colour, working life: 7 - 10 minutes, includes mixing bowl, spatula and applicator
Description
Hazard warnings
UHU plus acrylate is a two component acrylate adhesive which cures quickly and makes possible the joining of numerous types of materials. This adhesive can be worked with from 7 to 10 minutes, will cure in 15 to 20 minutes and can even be sanded after as little as 25 minutes. The hardener from UHU plus acrylate comes in powder form and can be easily added in varying doses as a means of controlling the viscosity of the adhesive.
Danger, Methyl-methacrylat = 50 - 80 %, Methylstyrol (alle Isomeren) = 10 - < 25 %, 1,4-Dihydroxybenzol = < 1,0 %, (VOC-Wert (EU) = 13,00 %), Flam. Liq. 2, Skin Irrit. 2, Eye Irrit. 2, Skin Sens. 1, STOT SE 3
Hazard warnings
H225: Highly flammable liquid and vapour.
H315: Causes skin irritation.
H317: May cause an allergic skin reaction.
H319: Causes serious eye irritation.
H335: May cause respiratory irritation.
Safety instructions
P101: If medical advice is needed, have product container or label at hand.
P102: Keep out of reach of children.
P103: Read label before use.
P210: Keep away from heat, hot surfaces, sparks, open flames and other ignition sources. No smoking.
P261: Avoid breathing dust / fume / gas / mist / vapours / spray.
P303+P361+P353: IF ON SKIN (or hair): Take off immediately all contaminated clothing. Rinse skin with water [or shower].
P305+P351+P338: IF IN EYES: Rinse cautiously with water for several minutes. Remove contact lenses, if present and easy to do. Continue rinsing.
P403+P233: Store in a well-ventilated place. Keep container tightly closed.
P501: Dispose of contents / container to …
Uhu Plus acrylit, tube, binder + hardening powder 30 g