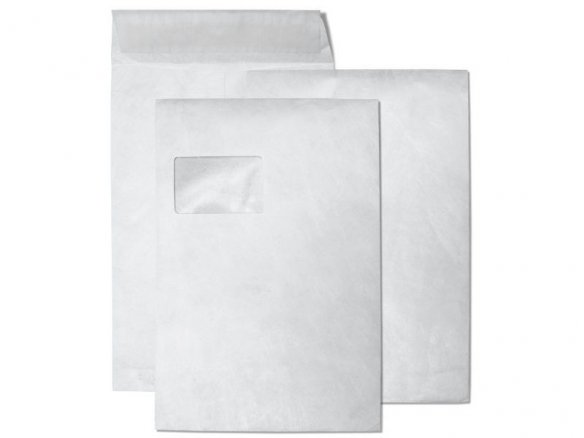 made of DuPont Tyvek, opaque, white, 54 g/m², straight flap on the short side, given dimensions: approx. overall dimensions (w x l)
Tyvek is a versatile material that is made up of many individual synthetic fibres (to be exact: polyethylene fibres). The non-directional fibres are heated and pressed together to form the material. The result is a lightweight but nonetheless nearly tearproof and waterproof fabric with a chequered glossy surface. It is thereby the perfect material to use for protecting items being mailed from here to there. Tyvek envelopes and mailers provide optimal protection against possible damages resulting from tearing or exposure to moisture or dirt. A further and often cost-saving feature of this material is its low weight because, of course, an envelope made of Tyvek is only about half as heavy as a standard paper or light paperboard alternative.
Please note regarding the version with the (film) window: The size of the window is 90 x 55 mm and it is located on the front side of the tall format exactly 57 mm from the top and 20 mm to the left.
Tyvek mailer, peel and seal, C4, 229 x 324 mm, with window