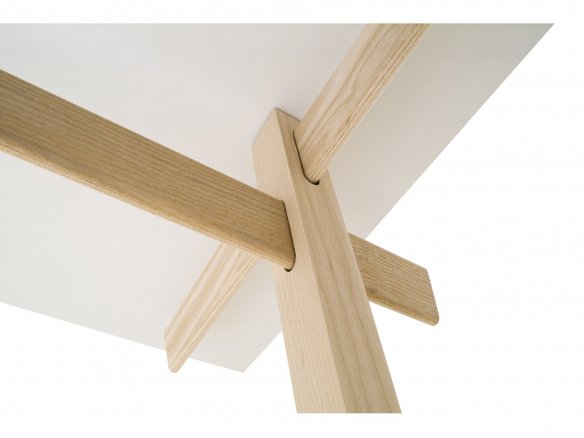 solid ash, untreated, four slotted legs with slip-proof rubber caps (width: 45 x 45 mm, height = 740 mm), 4 cross members (length: 2 x 1700 mm, 2 x 850 mm; width: 65 mm; thickness: 14 mm); weight: 6,5 kg, comes in white linen bag (transport/storage), Design: Jakob Timpe
The table frame "Stand" is made up of the two classic construction pieces that are used to make any table substructure, namely, legs and cross members (4 of each). What sets it apart is that the pieces are not glued or screwed together but instead are only joined by means of sticking the members through slots cut into the legs. When the weight of a tabletop is put on the resulting pedestal, the cross members cant (become basically jammed) and stabilize the construction. This effect is made possible by the ingenious elongated holes (slots) in the legs and by the use of ash wood, the special attributes of which are what make the whole construction possible in the first place.
Stand is a very versatile table frame that allows you to deal with all the different private or business needs that may come up regarding tables. It can serve as a dining table, a handy work desk or also a conference table that can be quickly built and quickly disassembled. In addition, by sliding the legs along the crosspieces you can completely change a table's appearance. If you have two of these table frames, the crosspieces can be combined in order to create a large square conference table or even a small round dining table.
The table frames "Stand" is manufactured in a Berlin cabinetmaker's workshop using genuine solid ash wood that is felled in local forests. In order to accentuate the simple beauty of Stand, the surface of the wood has purposely been left untreated (unsealed) - so it is that over time a natural patina will build up on the wood. In addition, what is true about any solid wood object is true of this table frames: The natural wax of the ash wood can cause aberrations in the grain and colour. Please also note that ash wood is not weather resistant and is therefore only conditionally suitable for use outdoors.
As a tabletop for Stand we recommend using our white, melamine coated tabletop which has the white ABS edge band (1800 x 900 x 25). Or you can select one of our LINOLEUM COATED TABLE TOPs, which come in a wide variety of colours, and combine it with an edge band in a colour you prefer. It of course goes without saying that other types of panels made from different materials like glass, wood or stone can also be used as a tabletop.
This table frames comes packed in an exclusive linen bag that makes it that much more convenient for you to assemble and disassemble it as well as to store it safely.