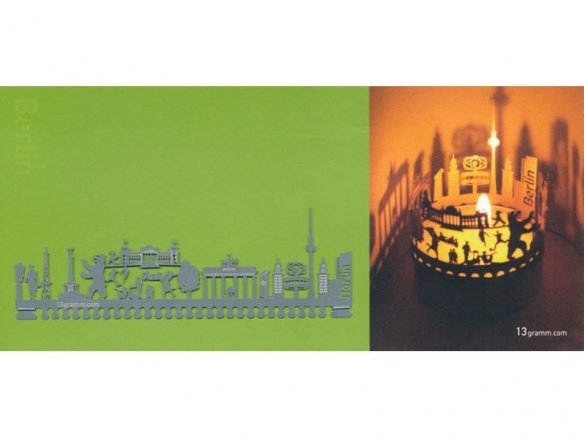 cheery mood all year long
suitable for any standard-sized tea lights
perfect size for shipping
minutely detailed silhouette figures (0.3 x app. 20-40 x 120 mm), highly refined spring steel (stainless steel), non-rusting, heat resistant, matte-finished, comes laying flat on a postcard (97 x 210 mm), when bent into a circle fits around a standard commercial tealight; reusable, Design: 13gramm
A lot of times it´s the little things that bring great joy - like our T-Light postcard which struts its stuff on the "stage" of a customary tea candle. The silhouette is bent to fit between the wax and the aluminium cup and casts a warm light filled with images.
One T-Light is attached to a postcard, which also has space provided for a personal message and which fits perfectly into a DIN long envelope for posting. In this way these tea candle silhouettes not only can serve as decorations for different occasions or events like Christmas, birthdays or sports events but are also great as very special greeting cards or invitations.
T-Light tea candle silhouette postcards
3 Variants
Note
Not suitable for persons under 15 years old! Use only when people are present and on a non-flammable substrate!
Accessories and Related Products