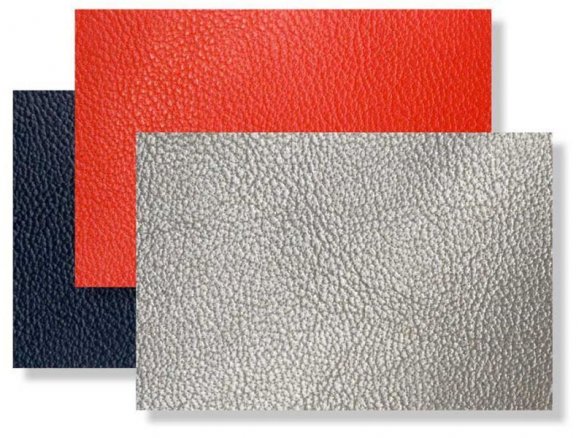 75% polyurethane, 25% polyester, 415 g/m², th = 0,8 mm, solid colour, machine washable up to 30 °C, effective width is ca. 1370 mm, doubled over
As it should be for a good synthetic leather, the front of this material has a finely grained and matte or semi-matte glossy surface and a nice soft feel similar to leather. The backing material is a polyester fabric that is elastic (especially crossways to the grain) and this accounts for the fact that this synthetic leather can be stretched over a round shape with a small radius without creasing. The quality of the elasticity is also what accounts for the fact that the leather can be vigorously stretched and pulled but no bulges or rips will appear - it will instead return to its original smooth shape without deformations.
The surface is indeed very resistant to abrasions and very durable but naturally does not have the toughness and longevity of real leather - but that is more than made up for by the considerably lower price. Synthetic leather does not breathe (transpiration) like leather either but for uses in adverse weather conditions the former is clearly superior.
Synthetic leather is classically used for covering upholstery, couches, benches and bar stools but is also found being used to make clothing, bags and accessories. It takes well to gluing (e.g. with SPRAY ADHESIVE), stapling and sewing (much easier to sew than real leather!). Special attention should be paid to hot temperatures when working with synthetic leather; it is true that you can marginally increase its stretchability by employing a hair dryer but heating it too much can cause permanent damage to the material. Our synthetic leather, it should also be noted, can indeed be ironed but only at the lowest heat setting (inside out if possible).
Synthetic leather with knitted backing (1268)
14 Variants
Note
Please note that no exchange is possible in the case of products cut from rolls and the minimum order for products sold from rolls is 0.5 running metre.