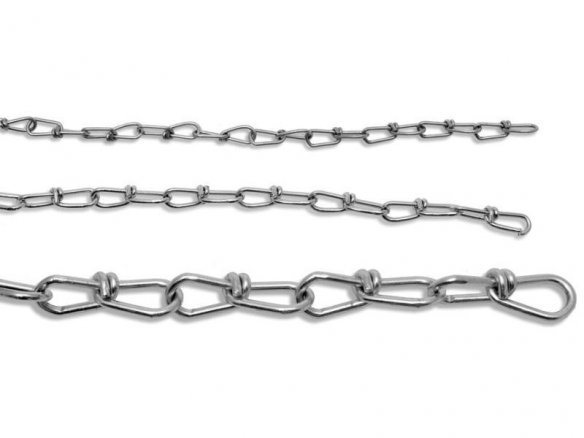 Given dimensions: thickness of metal x link length (inner) x link width (outer), chain conforms to no quality requirements, e.g. it is not suitable as a weight bearing device per DIN 685, part 3
Knotted chains are generally used for hanging signs or pictures for decoration purposes – they are rarely used to serve as a reliable way to carry heavy loads or as a sling. Bearing capacity for the different chain thicknesses is as follows (untested approximate values based on the "one-eighth" security factor):
1.3 mm = 14 kg
1.6 mm = 16 kg
3.0 mm = 49 kg
The maximum recommended bearing capacity is a calculated one (the theoretical breaking strength divided by the factor of 8). For example: if the theoretical breaking strength is 112 kg this is then divided by 8, which equals 14 kg. All information regarding bearing capacity is non-binding (without liability) and not guaranteed by Modulor.
Steel knotted link chain, 1.6 x 26.0 x 7.5 mm, galvanised