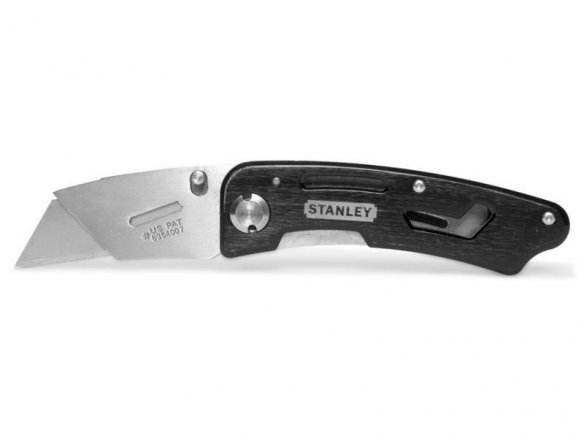 black anodized aluminium handle, blade guide is stainless steel, notched feeder, self-locking blade carriage, pocket clip is stainless steel
The fixed blade of a folding utility knife has the advantage that you can make powerful cuts through dense, thick materials without the blade pulling loose. Every facet of this folding utility knife is designed with really energetic use in mind: it fits nicely in the hand, is made completely out of metal, will not rust and has a simple mechanism, the simplicity being at the heart of its durability. A further advantage is its handling ease and portability – when folded shut, carrying it your pocket presents no problems.
If a change of blade is required, the sliding mechanism allows you to make the change just as fast as you would with a utility knife with snap-off blades – there is no screwing involved and nothing needs to be opened up; you only have to pull the blade out.
With a little practice, you will be able to open and close the knife with one hand. Until this level of competence has been reached, however, there is a certain amount of danger when folding the knife (!). Also, it is possible for left-handers to open and close this knife with one hand but it will be a somewhat awkward manoeuver.
Stanley folding utility knife for trapezoid blade, incl. 1 snap-off blade